Prepping For An All-Nighter: London Bankers Anticipate Volatility On Brexit Night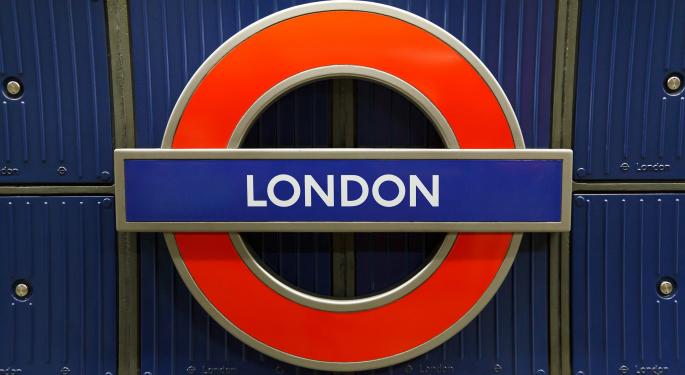 The world's biggest banks are planning on pulling an all-nighter June 23–24 as they are expected to draft in senior traders to work after Britain's EU membership referendum, the long-awaited "Brexit" vote. According to a Reuters report, Wednesday into Thursday is "set to be among the most volatile 24 hours for markets in a quarter of a century."
Prepping For Brexit Vote
A "yes" Brexit vote "would spook investers by undermining post-World War Two attempts at European integration and placing a question mark over the future of the United Kingdom and its $2.9 trillion economy," the report read.
Related Link: 4 Polls Point Toward a Brexit: Government Yields Hit Historic Lows, Pound Bottoms
Reuters, citing sources, said all the biggest banks are planning on having senior staff and traders on-call or officially on the clock after poll close at 2100 GMT. The report listed the following banks specifically:
"A vote to leave could unleash turmoil on foreign exchange, equity and bond markets, spoiling bets across asset classes and potentially testing the infrastructure of Western markets such as computer systems, stock exchanges and clearing houses," Reuters said.
Other Voices
Meanwhile, Federal Reserve Chair Janet Yellen has warned "a Brexit vote could shake financial markets and potentially push back the timing of the next rise in U.S. interest rates."
In addition, "Bank of England Governor Mark Carney has said sterling could depreciate, 'perhaps sharply' and some major banks have forecast an unprecedented fall to parity with the euro and as low as $1.20 in the days following any vote to leave the bloc."
The sterling, has experienced volatile moves as of late, with the moves frequently attributed to opinion poll results.
Related Link: Every Janet Yellen Speech Summarized, Using Zebras
A Dark Night?
Reuters, speaking on the potential volatility June 23 into June 24, said, the period "could rank as one of the most volatile nights in the history of the London market."
"We've all seen U.S. elections, UK general elections, we've had the Scottish referendum, the collapse of Lehman and QE (Quantitative Easing) but this is by far and away the biggest risk event that has presented itself to the UK," Reuters quoted Chris Huddleston, head of money markets at specialist bank Investec, as saying.
Reuters noted, "London accounts for 41 percent of global turnover in the $5.3 trillion-a-day foreign exchange market, more than double the turnover in the United States and far more than the 3 percent of its closest EU competitors, France and Switzerland."
Reuters reported both analysts and traders alike had voiced opinions that "they would expect a Brexit vote to cause sterling to 'gap', or plummet lower — as orders to sell the currency met an absence of willing buyers, leaving a blank spot on the price charts snaking across traders' screens."
View Comments and Join the Discussion!
Posted-In: News Bonds Eurozone Politics Forex Treasuries Events Global Best of Benzinga