Intrexon, Inovio, Cerus Tick Higher Following President Obama's Zika Comments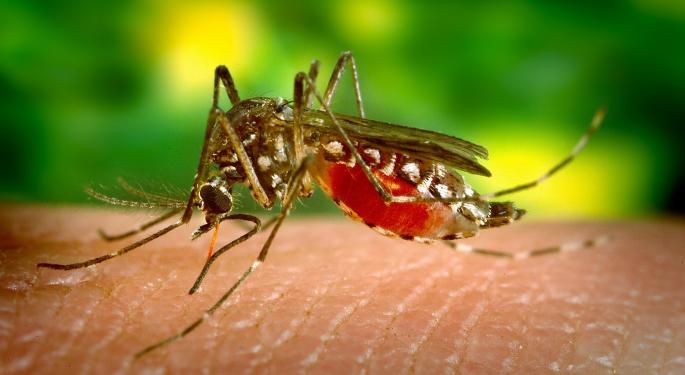 The U.S. House of Representatives approved a new Republican-backed bill on Wednesday that aims to combat the Zika virus. While the bill would provide $622 million to fight the virus, the dollar amount is actually less than one-third of what President Barack Obama was previously seeking.
President Obama spoke on Friday and urged the importance of immediate action.
"This is not something where we can build a wall to prevent. Mosquitoes don't go through customs," Reuters quoted the President as telling reporters after meeting with top health officials in the Oval Office.
He added, "Congress needs to get me a bill. It needs to get me a bill that has sufficient funds to do the job. They should not be going off on recess before this is done."
Despite the less than expected funding to combat the Zika virus, pharmaceutical names that are involved in finding and producing a vaccine jumped higher on Friday. Intrexon Corp (NYSE: XON) was trading higher by more than 5 percent, Inovia Pharmaceuticals Inc (NASDAQ: INO) gained more than 4 percent while Cerus Corporation (NASDAQ: CERS) gained nearly 2 percent.
However, NBC News, citing its "sources in the congressional leadership," reported that any final bill could be a long way off.
NBC News also quoted the Infectious Diseases Society of America, which issued a statement that said: "The Zika threat to the continental United States is imminent with the approach of summer. State and local public health departments as well as biomedical researchers need robust resources now to protect our population from Zika and to develop vaccines, rapid diagnostics, and therapeutic agents."
Posted-In: NBC News President Obama ZikaNews Health Care Global Movers General Best of Benzinga
View Comments and Join the Discussion!