San Francisco Not So Sweet To Beverage Investors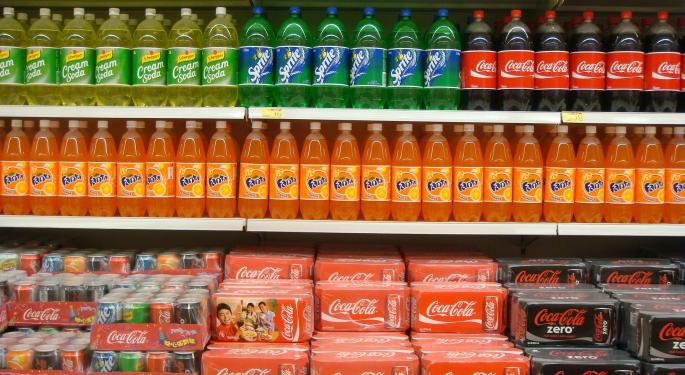 The Wall Street Journal reported San Francisco is set to become the first U.S. city to require cigarette style "warning labels" on ads for sodas and other sugary beverages.
The Letter Of The Law
Effective July 25, the law will require billboards and other public advertisements to include a statement reading, "WARNING: Drinking beverages with added sugar(s) contributes to obesity, diabetes, and tooth decay." The ban would not extend to television and radio ads.
On Tuesday, a civil complaint filed before a California court was struck down. The American Beverage Association, which filed the complaint and whose members include the The Coca-Cola Co (NYSE: KO) and PepsiCo, Inc. (NYSE: PEP), argued that the warning label requirement violated First Amendment free speech rights. The judge denied the request, ruling the plaintiffs wouldn't suffer irreparable harm from the new law.
Related Link: The Investment Case Against Sugar
Bans Inspire Other Cities
New York failed to implement a ban on the sale of sugary drinks larger than 16 ounces. Following New York's announcement of their proposed ban, Los Angeles debated banning sodas at public parks and libraries, and Bostonians proposed a ban of "super-sized" sodas at restaurants.
San Francisco's success in court may be the ammo warning-proponents need in cities like Baltimore and New York. Berkeley and Philadelphia are going further, proposing "sugar taxes" as high as $0.03 per ounce on drinks with added sugars.
Stocks Affected
Neither Coca-Cola nor Pepsi saw their share prices move much following either the announcement of the New York ban back in 2012 nor its being blocked in court in 2014. Both companies have also been extending their non-carbonated offerings for some time.
That being said, the "war on soda" is seen by some analysts as posing a risk to the beverage sector, particularly Coca-Cola, Pepsi, Dr Pepper Snapple Group Inc. (NYSE: DPS) and Monster Beverage Corporation (NASDAQ: MNST), if it ever extends to the adoption of soda taxes.
View Comments and Join the Discussion!
Posted-In: ABA American Beverage Association beverages Wall Street JournalNews Legal Media Trading Ideas Best of Benzinga