Richmond Fed Describes Its Role In Designing New $20 Bill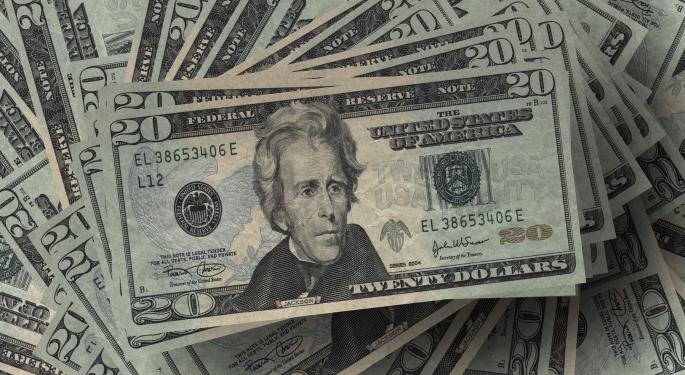 While by now many are aware Harriet Tubman's likeness will replace that of Andrew Jackson on the new $20 bill, however, what is less circulated is the role the Currency Technology Office (CTO) at the Richmond Fed will play in minting the new money.
The CTO is working closely with the U.S. Department of the Treasury's Bureau of Engraving and Printing and the Federal Reserve System's Board of Governors to define machine-readable security features for the new notes.
The CTO, which is the technical arm of the Fed's Cash Product Office (CPO), assists in testing how new bills run on the Federal Reserve's high-speed currency processing environment, including effectiveness of reading security features that are visible and invisible to the naked eye.
Related Link: Insider: Federal Reserve Process Is Broken And Has Been For A While
Highly Sophisticated, Anti-Counterfeit Technology
According to Kiran Krishnamurthy, Federal Reserve Bank of Richmond writer, "These high-speed machine inspections are one way the Federal Reserve inspects currency to detect counterfeit notes and helps ensure currency is fit for circulation."
"We have to determine what the public and private security features in the bills will do when they're on our machines," Richmond Fed Senior Vice President Roland Costa said in a press release.
Costa, who leads the CTO, cited an example, saying if a security feature is too shiny, it "could 'blind' the optical scanner on a high-speed currency processor."
In order to determine whether an individual note is still fit for circulation or should be destroyed, the machine evaluates "152 fitness characteristics in a mere 0.025 seconds or less and with a 0.35 percent rejection rate across all denominations."
Costa noted preparation and testing for new designs is likely to be more complex than in the past, "because the notes will include tactile features for the visually impaired for the first time."
What's Next?
In April, U.S. Treasury Secretary Jacob Lew said the new $10 note is up next; he has instructed the Bureau of Engraving and Printing to work in tandem with the Federal Reserve to speed up the process for the $20 bill and the $5 bill.
"We anticipate that final concept designs for the new $20, $10, and $5 notes will all be unveiled in 2020 in conjunction with the 100th anniversary of the 19th Amendment, which granted women the right to vote," Costa added.
Posted-In: $20 Bil Andrew Jackson Bureau of Engraving and Printing CTO Currency Technology Office Harriet TubmanNews Federal Reserve Best of Benzinga
View Comments and Join the Discussion!