Michael Lewis: The Book That Will Save Banking From Itself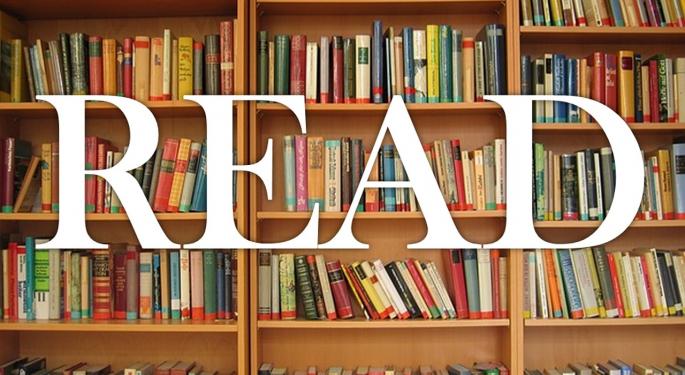 Michael Lewis is perhaps most well-known for authoring the best-seller "Flash Boys: A Wall Street Revolt" and "Moneyball: The Art Of Winning An Unfair Game," among others.
On Thursday, he penned an article on Bloomberg, in which he discussed one of his favorite memories from his professional career in finance. Lewis was working at the London office of Salomon Brothers when his supervisor informed him that Mervyn King, an academic at the time and former professor of Lewis', would be joining him for a day.
After an hour of shadowing Lewis in his daily activities, he asked, "How much are they paying you to do this?" Lewis answered, to which King then responded, "This really should be against the law."
Related Link: The Market In 5 Minutes: Happy Cinco De Mayo!
King later joined the Bank of England as governor for around 10 years. When his stint ended in 2013, the Bank of England became "the most trustworthy institutional narrator of events in global finance." He then went on to write a book called "The End Of Alchemy: Money, Banking, and the Future of the Global Economy."
"King's book draws on his experience of running a central bank – and of managing a financial crisis – to diagnose the ills of modern finance," Lewis wrote. "Oddly enough, if his book gets the attention it deserves, it might just save the world."
Lewis continued and highlighted a small part of the book which further emphasizes his point that it could save the world.
"The strange thing," he wrote, "is that after arguably the biggest financial crisis in history nothing much has really changed in terms either of the fundamental structure of banking or the reliance on central banks to restore macroeconomic prosperity."
Lewis added, "As it turns out, he has a powerful idea for how to change it. 'The End of Alchemy' is about more than this one idea – which doesn't actually appear until roughly 250 pages into the book. To the idea itself he devotes 40 seriously interesting pages."
Lewis concluded, "A former governor of the Bank of England thinks we need to change the relationship between our banks and our society, and fast. Most of us would be better off if we took his advice."
View Comments and Join the Discussion!
Posted-In: Bank Of England Bloomberg Flash Boys Mervyn KingEducation Top Stories Economics General Best of Benzinga