Marijuana Legalization Could Hurt ISIS And The Mafia, May End California Drought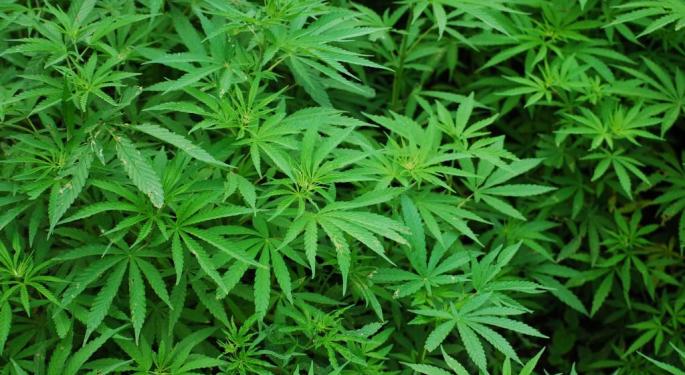 While marijuana and marijuana-laced products have fantastical monikers like "magic brownies" and "magic dragons," the extraordinary capabilities of cannabis are often limited to claims of alleviated stress and pain reception. However, a pair of articles has now offered two more spellbinding potential indications for pot: ending drought and damaging organized crime.
Drought Alleviation
The Daily Californian recently published a piece by Amber Norori, suggesting legalizing marijuana "could promote drought alleviation."
Norori opens her argument by citing California is responsible for 60 percent of marijuana cultivation and two-thirds of the nation's overall agriculture production. Agriculture in general and growing marijuana specifically are both "water-intensive industries," Norori stated, and therefore, "greatly contribute to, and worsen, the drought."
However, with proper regulations and legalization of recreational marijuana, Norori sees the drought-afflicted region emerging from its water concerns.
Related Link: 6 Weed Stocks That Aren't Penny Stocks
"Because the state has only legalized medical marijuana use – and it's still federally classified as a schedule one drug – many black market sellers are forced to grow their product in remote places for fear of getting caught. This usually results in marijuana cultivation deep into northern California's protected national forests, such as the Shasta-Trinity Forest near Redding, California, which has been hit hard by illegal marijuana growers. Most plots draw water directly from streams through pipes that are powered by diesel generators and have no water storage capabilities, which means that streams are often run dry in the summer to support the fast-growing crop," Norori said.
Norori concluded, "The only way to curtail this growing industry and stop its destruction of our watersheds is to enact legislation, and the only way to do that is to legalize marijuana completely so that water usage for cannabis can be controlled across the state."
Fighting ISIS And The Mafia, With Legalized Pot
Italy's top prosecutor, national anti-mafia and anti-terrorism chief Franco Roberti has shared some interesting insights with Reuters, claiming that by legalizing pot and/or decriminalizing weed sales in Italy and across Europe would negatively impact the Islamic State and the Mafia.
"Decriminalizing cannabis sales would strike a blow against Islamic State militants and Italian mobsters who, according to ongoing investigations, are smuggling hashish together," Reuters paraphrased.
Roberti explained, "Decriminalization or even legalization would definitely be a weapon against traffickers, among whom there could be terrorists who make money off of it."
The illegal drug trade earns more than $36.10 billion for organized crime in Italy alone, Roberti said, citing figures from the United Nations Office on Narcotics and Crime.
Despite Italy having thus far avoided Islamist attacks, the threat looms. Roberti elaborated that the ISIS' intimidation exceeds traditional attacks for Italy, "Italy has not been attacked by Islamist militants, but IS propaganda films regularly mention Rome and the Vatican as possible targets. Many Italian sites are considered at high risk of attacks," Reuters once more paraphrased Roberti.
"International terrorism finances itself with criminal activities that are typical of the mafia, like drug trafficking, smuggling commercial goods, smuggling oil, smuggling archeological relics and art, kidnapping for ransom, and extortion," Roberti explained, justifying a coordinated national fight against terrorism and organized crime between his organization and the Italian government.
View Comments and Join the Discussion!
Posted-In: Amber Norori California drought Daily Californian ISISPolitics Psychology Opinion General Best of Benzinga