Drone Companies Are Teaming Up To Lobby Politicians And GoPro Is Involved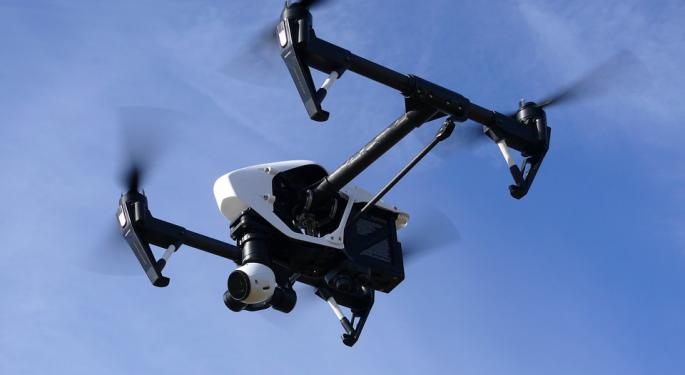 'Drone Manufacturers, Assemble!'
The Drone Manufacturers Alliance, a four-company strong coalition of drone developers, is made up of 3DR, DJI, Parrot and GoPro Inc (NASDAQ: GPRO) and while it is the thing of science fiction or superhero comics, it does provide a glimpse into an innovative and technological future.
These four companies have united between a single focus, to lobby for drone policies. As explained by the Alliance, the group "will serve as the voice for drone manufacturers and our customers across civilian, governmental, recreational, commercial, nonprofit and public safety applications."
"We will advocate for policies that promote innovation and safety, and create a practical and responsible regulatory framework," the Alliance proclaimed.
Why The Rallying Cry?
"There are significant economic and social benefits to drone operations in the U.S., and industry must work with policymakers to ensure a safe environment for flying," the Alliance elaborated.
Related Link: Report: Drones Are A Threat To Airline Safety
"The Drone Manufacturers Alliance believes a carefully balanced regulatory framework requires input from all stakeholders and must recognize the value and necessity of continued technological innovation. By highlighting innovation and emphasizing education, we intend to work with policymakers to ensure drones continue to be safely integrated into the national airspace."
Coalitions Like This Are Not Unheard Of
Gizmodo explained the formation of the coalition, emphasizing that the four had previously been associated with a similar group, albeit one with a broader focus.
"In order to form the new lobbying group, the four companies split from the Small UAV Coalition, which still includes the like of Google (Alphabet Inc (NASDAQ: GOOGL) (NASDAQ: GOOG)), Amazon (Amazon.com, Inc. (NASDAQ: AMZN)) and Intel (Intel Corporation (NASDAQ: INTC)). It makes sense: DJI and Parrot focus on small, consumer drones that are mostly photography tools or expensive toys. Google and Amazon want to change the future of transportation, so naturally, their priorities are going to be a little different."
Posted-In: 3DR DJI Drone Manufacturers AllianceNews Education Top Stories Tech General Best of Benzinga
View Comments and Join the Discussion!