The Market In 5 Minutes: Wednesday, March 30, 2016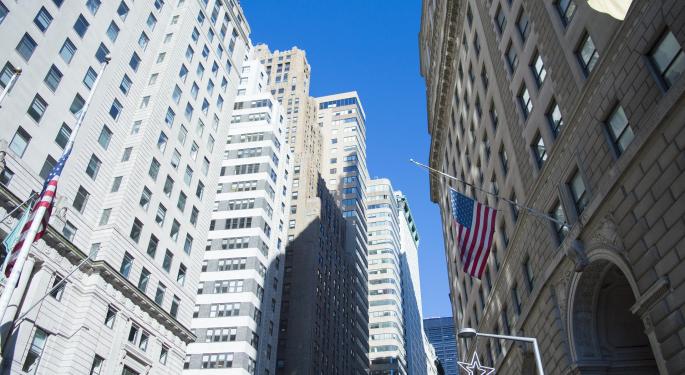 Below is a tool used by the Benzinga News Desk each trading day -- it's a look at everything happening in the market, in five minutes. Apply for daily AM access by clicking here or email minutes@benzinga.com.
Macro Focus
Private companies added 200,000 jobs in March, which matched ADP estimates.
By launching nuclear-capable missiles, Iran has defied a United Nations Security Council resolution that endorsed last year's historic nuclear deal, the United States and its European allies said in a joint letter seen by Reuters.
As the threat of impeachment looms for President Dilma Rousseff, Brazil's largest political party announced it's pulling out of her coalition government. The Brazilian lower house is in the process of analyzing an impeachment bid launched by Speaker of the House Eduardo Cunha.
Wells Fargo (NYSE: WFC), the San Francisco-based lender known for its retail banking business, has picked out space on Wall Street for a trading operation to use as a base for a stealth attack on the investment banking world. Reuters says, "The bid for more capital markets business - from advising on deals and security issues to trading derivatives - is a potentially risky move by the third-largest U.S. bank by assets."
BZ Newsdesk Focus
Federal Reserve Chairman Janet Yellen said the central bank of the world's largest economy should exercise caution in proceeding with the monetary policy. Economist Mohamed El-Erian told Benzinga, "The basic issue facing the US and most other systemically-important economies in the world is the political failure to undertake the handoff from prolonged dependence on financial engineering to revamped genuine engines of inclusive economic growth."
Valeant (NYSE: VRX) said it's "comfortable with its current liquidity position and cash flow generation for the rest of the year, and remains well positioned to meet its obligations."
Lululemon (NASDAQ: LULU) spiked 10 percent after the company said it earned $0.85 per share in the fourth quarter on revenue of $704.3 million. Wall Street analysts were expecting the company to earn $0.80 per share on revenue of $693.4 million.
Sell-Side Themes
Goldman Sachs maintained a Neutral coverage view on the small- to mid-cap biotech segment, while advocating selectivity "based on positive catalysts, EPS execution & M&A optionality."
Tesla's (NASDAQ: TSLA) Model 3 will launch on Thursday, leading many Wall Street analysts to weigh in on the car's impact on the company's stock.
Sell-Side's Most Noteworthy Calls
The Model 3 could be "the main driver of nearly 5X growth in annual deliveries by 2020."
Goldman Sachs maintained a Sell for TerraForm Global (NASDAQ: GLBL) while slashing the price target from $3 to $1.50, after the company announced a likely delay in its 2015 10-K filing. The delay in filing results from the overlapping of financial reporting and control process with parent Sunedison (NYSE: SUNE).
Longbow Research upgraded Apple (NASDAQ: AAPL) to Outperform and raised its price target to $135.
Math shows a JetBlue (NASDAQ: JBLU) or Alaska Air (NYSE: ALK) merger with Virgin (NASDAQ: VA) is 15 percent accretive.
Deal Talk
Qihoo 360 Technology (NASDAQ: QIHU) confirmed its shareholders approved a merger agreement. Qihoo 360 entered into a definitive merger agreement on December 18, 2015, with a consortium of investors to be acquired for $77.00 in cash per ADS, valuing the entire company at approximately $9.3 billion.
General Electric (NYSE: GE) has agreed to sell its U.S. hotel franchise loan portfolio to Western Alliance (NYSE: WAL) as part of an ongoing strategy to divest most of its GE Capital assets. In a separate transaction, General Electric announced an agreement in which it will sell its GE Asset Management business to State Street (NYSE: STT) for up to $485 million.
What's Up In The News?
President Barack Obama unveiled new steps and funding to broaden medical treatment and assistance for millions of people addicted to heroin and prescription painkillers.
HRC and Equality NC, the state organization working to secure equal rights and justice for LGBT North Carolinians, released a letter from more than 80 leading CEOs and business leaders calling on Gov. Pat McCrory and the North Carolina General Assembly to repeal the radical provisions in the deeply discriminatory House Bill 2 that was rammed through the legislature last week.
Takata, the supplier behind the auto industry's biggest recall ever, estimated that a comprehensive callback of its airbag inflators would total about 2.7 trillion yen ($24 billion), a person familiar with the matter told Bloomberg.
With Microsoft (NASDAQ: MSFT) already in the NFL's coffers, the world's tech giant sided with America's pastime. The Wall Street Journal reported Apple reached a new agreement with Major League Baseball to supply every team with iPad Pro tablets.
Academia
Many Americans are misinformed when it comes to understanding the risks of Zika virus, a new Harvard poll found. The results of the poll show that people often don't know how Zika spreads, or the effects it can have on human health.
A new study has revealed that in near future, a blood test might be instrumental in detecting concussions risk even after a week of impact. The research explained that a protein associated with head trauma might be there in blood even after a week of injury.
Archeologists in Italy have discovered a precious ancient stone slab with mysterious text written on it. It's an Etruscan find and may lead to information about the gods or goddesses of these people of the past.
Blogosphere
"One of the things you learn in my industry is that pedigree opens a lot of doors and gives you a big head start," Josh Brown writes, "but it doesn't guarantee your colleagues or clients any kind of peace of mind."
Detroit Free Press sports columnist Drew Sharp owes the public an apology. iSportsWeb's David Harns wrote about his interactions with the sportswriter, after the Freep columnist plagiarized a piece of Harns late last year.
Buy-Side
United Continental (NYSE: UAL) pilots plan to picket activists PAR Capital and Altimeter Capital headquarters.
China TechFaith (NASDAQ: CNTF): We'll consider buybacks when we have free cash flow to do so.
Trending
FB ACAD LULU OPK SUNE EH BBRY AAPL GOOG CCL VXX GE VRNT HIMX SONC
Should ESPN's "SportsCenter' be covering WWE (NYSE: WWE) Wrestlemania 32? Many don't think so.
Quote Of The Day
"I don't discard people. I stay with people."
GOP frontrunner Donald Trump said while speaking to reporters after his campaign manager was charged with battery. Trump once owned the trademark to the phrase, "You're fired."
View Comments and Join the Discussion!
Posted-In: Market in 5 minutesNews Events Global Top Stories Best of Benzinga