The Market In 5 Minutes: Monday, March 28, 2016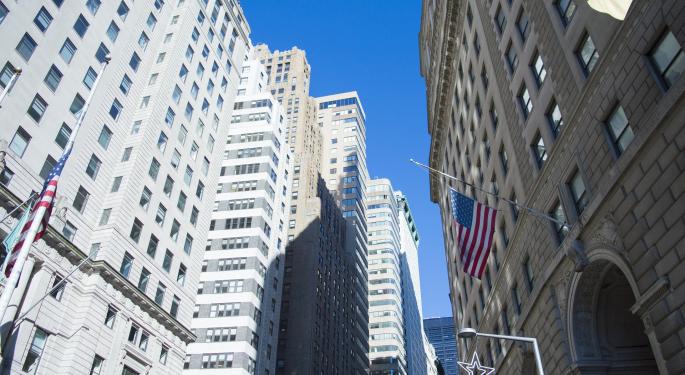 Below is a tool used by the Benzinga News Desk each trading day -- it's a look at everything happening in the market, in five minutes. Apply for daily AM access by clicking here or email minutes@benzinga.com.
Macro Focus
The dollar firmed on Monday and most Asian markets surrendered early gains as investors awaited U.S. economic data and speeches by Federal Reserve officials this week that could signal more interest rate increases than expected. European markets are closed for the Easter holiday. In a note, Deutsche Bank said, "With respect to Yellen, comments from Fed policymakers last week were moderately more hawkish than what the March meeting statement had implied."
Pakistan will launch a paramilitary crackdown on Islamist militants in Punjab, the country's richest and most populous province, after an Easter Day bombing killed 70 people in the provincial capital Lahore.
California legislators and labor unions have reached a tentative agreement that will take the state's minimum wage from $10 to $15 an hour, a move that would make for the largest statewide minimum in the nation.
BZ Newsdesk Focus
USA Personal Spending month-over-month for February came inline at 0.10 percent. USA Personal Income was 0.20 percent vs. 0.10 percent estimates.
The calendar quarter winds down this week, and we are in the lull before Q1 earnings reporting season begins in the middle of April. Three of the most prominent among the sparse quarterly results due this week are coming from Blackberry (NASDAQ: BBRY), Lululemon (NASDAQ: LULU) and Micron (NASDAQ: MU).
Pandora (NYSE: P) fell 10 percent after announcing founder Tim Westergren will be its new CEO, which could be a sign the company isn't selling itself.
Sell-Side Themes
Morgan Stanley and Citi believe Syndax (NASDAQ: SNDX)'s lead molecule, entinostat, could be a "major value driver." The company is also conducting a Phase III study of entinostat "in hormone receptor positive breast cancer as a single agent," data for which is expected in 2018.
Goldman Sachs said the 3.5 percent decline in Paypal (NASDAQ: PYPL) appears to be overdone, since the company's medium-term growth trajectory is not impacted by the recent update on Apple's (NASDAQ: AAPL) Apple Pay. SunTrust said the impact of Apple Pay is manageable for PayPal.
Sell-Side's Most Noteworthy Calls
Imperial downgraded ExOne (NASDAQ: XONE) to Underperform, raising the price target from $8 to $9. The analyst believes the recent share price doesn't account for the macro headwinds that could impact growth in 2016, such as the depressed energy sector, currency devaluation and possibility that capital equipment purchases could be delayed.
Although for months there has been speculation of Intel (NASDAQ: INTC) securing a portion of the IP7, the impact on Qualcomm (NASDAQ: QCOM) is not clear as yet. Barclays said, "[W]e are moving to the sidelines until this transition and QCOM's response is better understood."
RBC Capital Markets' Amit Daryanani expressed optimism regarding Apple being able to "comfortably" increase its capital allocation program to include share repurchases of $50 billion and hike dividend by 10-15 percent.
Deal Talk
Microsoft (NASDAQ: MSFT) executives are in early talks with potential Yahoo (NASDAQ: YHOO) investors about contributing to financing to buy the troubled Internet company, a person familiar with the situation told Reuters. Re/code first reported the news, attributing the deal to "numerous sources."
NTT Data (NYSE: NTT) reached an agreement with Dell to acquire Dell Services, an IT services provider that focuses on infrastructure services, cloud services, application services and business process outsourcing.
Reuters reported Qlik Technologies (NASDAQ: QLIK) is exploring strategic alternatives, including a sale of itself as the company has come under pressure from a major shareholder and activist investor, Elliott Management.
What's Up In The News?
Bernie Sanders won over Washington, Alaska and Hawaii by impressive margins. The Democratic presidential hopeful's weekend will likely mean a fundraising boost for the small-donor driven campaign.
Following the attack in Pakistan, Facebook (NASDAQ: FB) users as far away as Hawaii, New York and the UK received notification from the site's disaster response feature. Facebook has apologized for pushing its safety check feature to users worldwide in the wake of the suicide bombing.
Snapchat is telling potential advertisers that its worldwide daily active users, which at last count stood at more than 100 million, now spend an average of 25-30 minutes a day on Snapchat, a source with knowledge of the pitch told Business Insider.
The Detroit News auto team spoke on the New York Auto Show to offer an inside look at the biggest hits, misses and surprises.
Academia
Chile has confirmed its first case of the Zika virus having been sexually transmitted, the health ministry said in a statement on its website on Saturday.
Apple's iOS 9.3 new Night Shift feature probably won't help you sleep better. There's no solid evidence that mobile screens' color temperature is the real culprit to keeping you up at night.
Blogosphere
Donald Trump wants to leave U.S. allies in the lurch, Bill Schneider writes. "Thanks to Donald Trump, Americans now know what a populist foreign policy looks like: "Not isolationist, but America First."
Martin Shkreli released a bunch of finance lessons his YouTube. Are they worth watching?
Eric Hunsader has a bone to pick with Mac O'Briens "Citadel Ghost Deck."
Buy-Side
Avon Products (NYSE: AVP) has reached an agreement with an investor group led by Barrington Capital, including NuOrion Partners and other investors who own more than 3 percent of the company. Barrington Capital has been granted the right to approve the appointment of an independent director to Avon's board of directors. The candidate will be jointly selected by the company and Cerberus Capital Management.
Fortune has an in-depth report on Bill Ackman-Michael Pearson "bromance" at the heart of the Valeant (NYSE: VRX) disaster.
Trending
ACAD ALDR FB GME P CALM QLIK ESV AMZN NBR BIIB BBT ZIOP
Time Warner's (NYSE: TWX) "Batman V. Superman: Dawn Of Justice" is expected to take in well over $400 million ($170 million of that is coming from U.S. audiences). Warner Bros. now holds the title for a number of important milestones including the best global debut for a superhero film, which was previously held by Marvel's "The Avengers."
The #FinalFour is set. NCAA basketball's annual March Madness tournament will conclude next weekend with North Carolina, Oklahoma, Villanova and Syracuse vying for the national championship.
Posted-In: Market in 5 minutesNews Events Global Top Stories Best of Benzinga
View Comments and Join the Discussion!