Video: Protesters Call For $15 Minimum Wage Outside Detroit's GOP Debate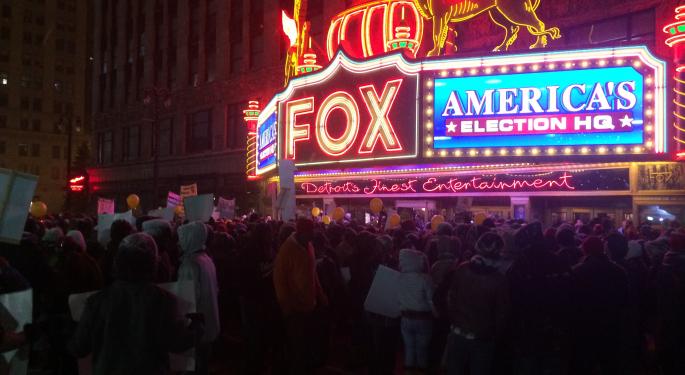 The 11th Republican presidential debate is set to get started in less than an hour, but another party already flared up outside debate doors.
Situated in front of Detroit's Fox Theater, hundreds of protesters made their way down Woodward Avenue in defiance of the Republican nominees and the GOP as a whole. Several chants broke out, including calls for Michigan Gov. Rick Snyder to resign and be arrested, the Flint water crisis, and pension payments, among others. Another that stuck out was for $15 minimum wage.
LIVE on #Periscope https://t.co/TgRTV2Baxh

— Benzinga.com (@Benzinga) March 4, 2016
This is nothing new for the candidates.
"I hate to say it, but we have to leave it the way it is," Donald Trump said back in November 2015. "People have to go out, they have to work really hard and have to get into that upper stratum. But we can not do this if we are going to compete with the rest of the world."
"If you raise the minimum wage, you're going to make people more expensive than a machine," Marco Rubio said at the time.
Ohio Gov. Kasich said during that debate that, "In the state of Ohio...we do have a moderate increase in the minimum wage.
The federal minimum wage has been a hot-button issue for years.
Earlier Thursday, Costco Wholesale Corporation (NASDAQ: COST) raised its minimum wage for the first time in nine years. Starting pay will now begin at $13-$13.50.
"Walmart last year announced a two-step raise for hundreds of thousands of its U.S. workers, the first phase having kicked in last year," Fortune noted. "Sam's Club, a unit of Wal-Mart Stores, and Costco's most direct rival, also raised pay, as has Target."
The latest Republican debate is scheduled from 9-11 p.m. ET on Fox News. The Michigan primary is Tuesday, March 8, and Republican candidates are vying for the state's 59 delegate votes.
Posted-In: Detroit Donald Trump John KasichNews Entrepreneurship Politics Events General Best of Benzinga
View Comments and Join the Discussion!