Lady Gaga's David Bowie Tribute Was Surrounded By An Intel Commercial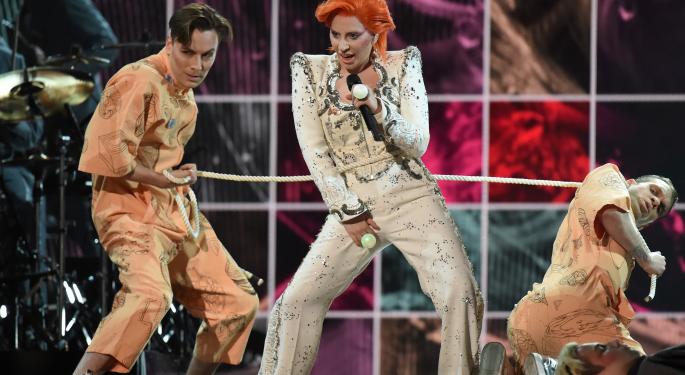 Did you watch the Grammy's last night? Chances are many tuned in specifically to watch the show's tribute to legendary musician David Bowie, who passed away last month.
Lady Gaga was given the duties of channeling Bowie, as the Grammys has become well known for its live performances rather than the actual awards. The pop superstar actually received a little help from Intel Corporation (NASDAQ: INTC).
"There is magic that can be made with technology," Gaga said at the outset of the commercial, which aired just as she was about to take the Grammy stage. "It can affect stage performance and really take it to another level. You can actually create an artistic expression of Intel's work."
Lady Gaga proceeded to sing a six-minute medley of Bowie's greatest hits, before the commercial concluded with her saying, "Intel and Haus of Gaga share a passion for innovation. We wanted to inspire the world using music and technology in a performance unlike anything we've witnessed before."
Related Link: Kanye West: 'The Life Of Pablo' Will Never Be On Apple And Will Never Be For Sale
The performance mixed holography, robotics, 3-D motion graphics and live video processing.
"Lady Gaga had been speaking to Intel as early as September, brainstorming ways in which she could use technology to express herself in a way that had never been done before," Paul Tapp, Intel's director of technology, told Vanity Fair.
"Viewers have probably seen this technology before," Teresa Herd, Intel's VP of global marketing, "but it's all been a special effect done after a film is shot. This is done in real time—it's literally changing and morphing right in front of your eyes."
Check out the entire sequence in the video below:
View Comments and Join the Discussion!
Posted-In: David Bowie Grammys Grammys 2016 Haus of Gaga IntelNews Events Tech Best of Benzinga