Emerging Markets Promotion Still Murky For Saudi Arabia ETF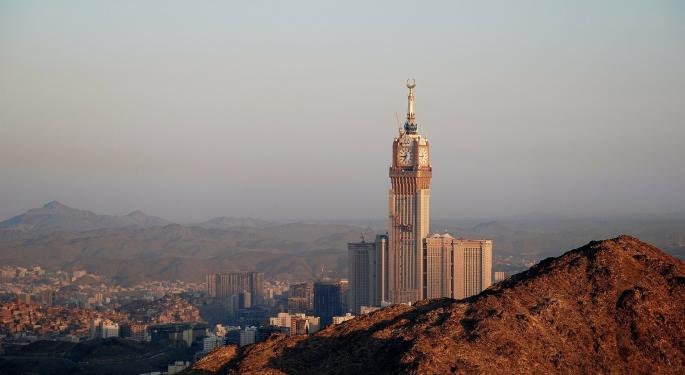 The iShares MSCI Saudi Arabia Capped ETF (NYSE: KSA) debuted in September, undoubtedly in auspicious timing for the first U.S.-listed exchange-traded fund tracking equities in the largest member of the Organization of Petroleum Exporting Countries (OPEC).
While the iShares MSCI Saudi Arabia Capped ETF launched in the midst of an epic slide in oil prices, the fund was viewed as a potential play on two other themes: the liberalization of the Saudi economy, including increased access for foreign investors, and the kingdom's eventual ascent to the widely followed MSCI Emerging Markets Index.
Although KSA remains a play on increased access to the Saudi economy and the kingdom's equity markets, even long-term investors may need to apply additional patience in waiting for Saudi Arabia to join major emerging markets equity benchmarks.
Related Link: Cisco's CEO Talks Emerging Markets, Customer Trends And Dividends
Waiting On Saudi
"Last year, it was heavily suggested that Saudi Arabia was looking at joining MSCI's emerging markets list, with the potential of increasing inflows into the country's bourse. But the sentiment has recently changed.
"According to Reuters, Khalid al-Hussan, the acting chief executive of Saudi Arabia's stock exchange (Tadawul), was quoted by EconomicME magazine claiming that 'there is a still a level of uncertainty of when this could happen. There are multiple things to be considered, some of them within the control of the exchange,'" according to Emerging Equity.
Saudi Arabia, Journey From Frontier To Emerging
Suggestions that Saudi Arabia will eventually join the MSCI Emerging Markets were partially assumptions as well. When plans for KSA were revealed, Saudi Arabia was not even a member of the iShares MSCI Frontier 100 ETF (NYSE: FM) or that ETF's underlying index. What that says is investors are betting Saudi Arabia is able to skirt being a frontier market and head straight to emerging markets status.
Saudi Arabia's fellow OPEC members Qatar and the United Arab Emirates prove it is possible to make the leap from FM to the iShares MSCI Emerging Markets Indx (ETF) (NYSE: EEM), as those are the only two Middle East nations to earn that promotion. However, investors should also remember that Qatar and UAE were on MSCI's list for possible frontier-to-emerging promotion for seven years.
KSA is the fourth single-country ETF tracking stocks in an OPEC member state. In 2015, the other three members of that quartet, each of which traded for the entire year, posted an average decline of roughly 18 percent. Each of those countries, including Qatar and United Arab Emirates, is highly dependent on oil for government revenue, but in Saudi Arabia, oil represents 80 percent of government revenue.
Image Credit: Public Domain
Posted-In: News Short Ideas Emerging Markets Emerging Market ETFs Commodities Intraday Update Markets Trading Ideas Best of Benzinga
View Comments and Join the Discussion!