Netflix Migrates Its Entire IT Operations To The Cloud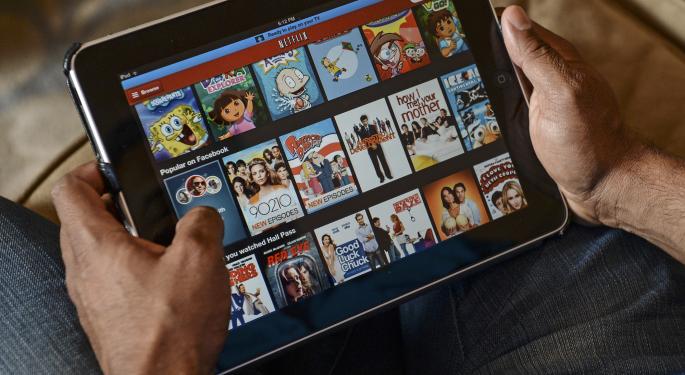 Cloud computing has become a popular way for companies to store data and run their Information Technology departments as it offers unlimited expansion possibilities. The transition from traditional servers to operating in the cloud can be a difficult one, especially for companies with extensive IT departments.
However, Netflix, Inc. (NASDAQ: NFLX) completed a massive cloud migration in which it moved its entire IT department to Amazon Web Service, Amazon.com, Inc. (NASDAQ: AMZN)'s cloud computing arm, this year.
Largest Cloud Company
Netflix's transition marks a major milestone for cloud computing as it has become the largest company to shift its entire operations into the cloud. The process was an arduous one, though, as Wall Street Journal pointed out.
For seven years, Netflix rebuilt its IT department within Amazon's cloud platform. In doing this, the company was able to redesign its operations to support unlimited growth, rather than simply moving existing IT functions, which could create limitations down the road.
With its IT department rooted firmly in the cloud, Netflix execs say the company's potential for growth is much greater. The firm has already expanded into 130 countries using its cloud-based IT department.
Cloud Computing To Expand
While the migration is likely to set Netflix up for the future, the shift is also a good sign for the enterprise-cloud market as a whole. More and more companies are looking to do away with traditional data centers in favor of cloud computing and the industry has been growing exponentially.
By the year 2026, 64 percent of large scale companies are expected to have transferred their entire operations to the cloud.
Cloud Computing Players
That kind of growth is good news for companies that have invested heavily in creating cloud platforms like Amazon. Microsoft Corporation (NYSE: MSFT), Alphabet Inc (NASDAQ: GOOG) and International Business Machines Corp (NYSE: IBM) have also developed cloud platforms and are likely to benefit from an influx of business in the coming years.
Posted-In: Amazon Wed Service AWS cloudNews Top Stories Tech Best of Benzinga
View Comments and Join the Discussion!