Super Bowl 50 Slips Year-To-Year In Ratings; 'Colbert' and 'Corden' Hit Highs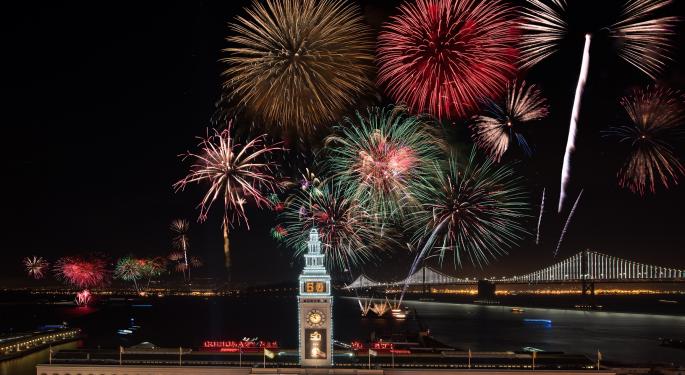 Over the last few years, it has become tradition for the Super Bowl to top itself as the most-watched program on TV, but that won't be the case this year.
The CBS Corporation (NYSE: CBS)-aired broadcast still dominated the airwaves, but in terms of total viewers, it will have to settle for third place. In total, 111.9 million viewers tuned into the 50th Anniversary of the NFL Championship Game. That's down 2.3 percent year-to-year from 2015, when the New England Patriots pulled off a miraculous interception to top the defending champion Seattle Seahawks.
It had been expected the Golden Anniversary of the big game, paired with the prospect of seeing Peyton Manning get his chance to ride off into the sunset with a win, would have goosed the numbers. Instead (and somewhat ironically), the at-times close game between Manning's Denver Broncos and Cam Newton's Carolina Panthers would end up finishing behind last year's bout and the prior year when Seahawks demolished the same Broncos.
Related Link: Are Super Bowl Ads Worth The Money?
As per custom, the Super Bowl's peak performance came from 8:30 p.m. to 9 p.m. EST, when the 115.5 million tuned into the halftime show featuring Coldplay, Beyoncé and Bruno Mars.
Post Show Success
Following the Super Bowl this year was a special live edition of "The Late Show With Stephen Colbert," which averaged around 21 million viewers. Given its massive lead-in, it's no surprise those numbers are about three times larger than anything the not-even one-year-old show has done prior. The previous record for the series was its premiere last September where it earned 6.55 million viewers.
In terms of comparisons, "Colbert" numbers trailed the 25.7 million viewers that watched "The Blacklist" following last year's NBC telecast. The late night show did however top the combo of "New Girl" and "Brooklyn Nine-Nine," which together averaged 20.7 million viewers in 2014 for Twenty-First Century Fox Inc (NASDAQ: FOXA). Those numbers also topped "Elementary," which held the post-slot the last time CBS had the big game in 2013. The procedural drama attracted 20.8 million viewers.
Following "Colbert" was a special episode of "Late Late Show With James Corden," which also saw series highs. The program garnered a series-high 4.9 million viewers, which tops the Craig Ferguson hosted version during 2013.
Image Credit: By Jay Huang - https://www.flickr.com/photos/50663863@N02/24561426990/, CC BY 2.0, https://commons.wikimedia.org/w/index.php?curid=46854936
Posted-In: Beyonce Bruno Mars Carolina Panthers ColdplayNews Events Trading Ideas General Best of Benzinga
View Comments and Join the Discussion!