Spotify Video Arriving To Android This Week, Apple iOS Next Week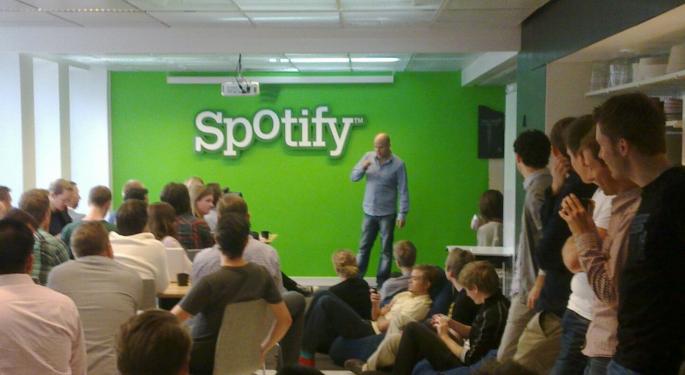 Popular music streaming company Spotify is making an incursion into the video streaming arena. According to the Wall Street Journal, the Swedish company will launch its video content on its Alphabet Inc (NASDAQ: GOOG) (NASDAQ: GOOGL)'s Android app later this week, with the release of the feature for Apple Inc. (NASDAQ: AAPL)'s iOS next week.
A company spokesperson said that the new service would be first introduced in the United States, the UK, Germany and Sweden, where it has already been tested on little under 10 percent of its users. For now, the content will be limited to short clips mostly, although some companies are already developing "original, music-themed series specifically for Spotify," the WSJ article stated.
Content providers will include ESPN, Comedy Central, the BBC, Vice Media and Maker Studios, the article continued.
Related Link: Apple Music's Latest Competition Is Named "Deezer"
Video Content Initially Will Be Free For All
For the time being, the video content will be available, for free, for all users – not just Premium customers, with the goal of "training" users, getting them accustomed to watch video on Spotify, which is conceived by most as solely a music-listening app. "Obviously our primary user is a music fan, and they are not necessarily leaning in and looking into the app," said Shiva Rajaraman, Spotify's vice president of product, "So there are no particular recipes for how to get this right."
Talking about the gratuity of the service, Rajaraman added, "This is fundamentally about giving music fans what they want [...] We are doing fine on monetization. This is primarily a demand play."
Disclosure: Javier Hasse holds no positions in any of the securities mentioned above.
Image Credit: "Daniel Ek addressing Spotify staff" by Jon Åslund profile - Flickr. Licensed under CC BY 2.0 via Wikimedia Commons.
Posted-In: Android BBC Comedy Central ESPN Maker StudiosNews Tech Trading Ideas Best of Benzinga
View Comments and Join the Discussion!