Powerball Reaches $1.5 Billion, But Is Buying A Ticket An Economically Viable Investment?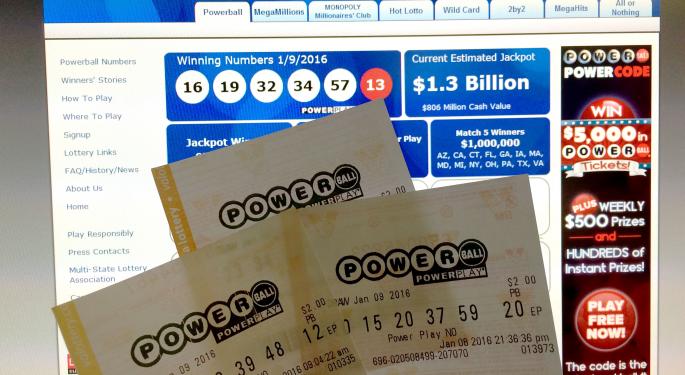 The following was originally posted on Facebook Inc (NASDAQ: FB) by a former Benzinga newsdesk analyst.
With the Powerball hitting a record sum, the inner nerd in me got curious. Is a Powerball ticket an economically viable investment? So for all you Econ, Finance, and Math nerds out there, I decided to run the numbers, with quite interesting results.
First off, are the assumptions:
The jackpot is $1.3 billion, but that is over 30 years. What we need is the lump sum jackpot, which is actually "mere" $868 million.
The odds of winning are 1 in 292 million. Far fetched for sure.
With that straight up, the expected value of a ticket is pretty good, but lets not forget Uncle Sam. If you do manage to win the jackpot, you lose a big chunk of it to taxes immediately. Lets place that cut at 40%.
The after tax winnings of a lump sum jackpot become $520.8 million at that tax level.
Now, to get the expected value per ticket, we multiply that by the odds of winning, and get just over $1.78 per ticket.
This means that currently at $2 per ticket its not economically viable, but things get quite interesting if the number isn't chosen this week.
Calculating it out, the lump sum jackpot would need to be $973.3 million, pre tax, in order for each ticket to have an expected value of $2. So if the lump sum breaks above that, say North of $1 billion, we might see a very strange thing happening: the Powerball ticket becoming an economically (not necessarily financially) viable investment!
Separately, Mark Cuban shared some advice for the potential $1.5 billion winner.
Posted-In: lottery Mark Cuban PowerballNews Entrepreneurship Events Opinion Economics Best of Benzinga
View Comments and Join the Discussion!