Lego Uses Gender Stereotypes To Get Girls Building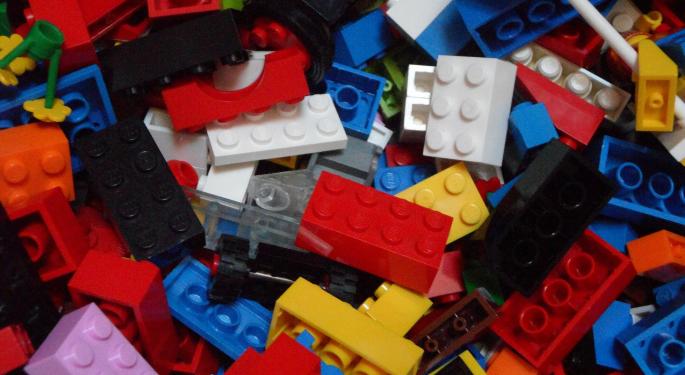 Danish toy maker Lego has long been a childhood favorite around the world, but the brand has struggled to maintain mass appeal to both girls and boys. While Lego bricks were initially designed as a unisex toy, the market for Lego sets has been predominantly male.
Appealing To Girls
As the Wall Street Journal noted, in an effort to attract female children, the company has offered a wide range of targeted products over the past 35 years, all of which were designed to appeal to girls by using feminine colors or themes deemed popular among young girls, but with very little success.
The firm tried everything from jewelry making sets to pink and pastel sets that focused on horse riding and tea parties, but ultimately failed to connect to its female audience. Many blamed this failure on Lego's decision to make its female sets easier to build with larger pieces.
Related Link: Lego Goes Green
Lego Friends
However, in 2012, Lego came out with Lego Friends, a new line aimed at females with themes that appeal to girls. Lego Friends has been a success for the brand so far, with data showing that the market for girls' construction toys in the United States increased from $300 million in 2011 to $900 million in 2014, due in large part to Lego Friends sales.
Gender Stereotypes
Lego Friends has been heavily criticized by feminist groups that say the girly themes and colors perpetuate gender stereotypes, but Lego execs say their research as well as sales figures show that girls enjoy building different things than boys. While battle scenes appeal more to male builders, females prefer sets that come in feminine colors and themes. However, the difference this time around is that Lego Friends sets are equally as challenging for both boys and girls.
Stronger Ties
While many still complain that Lego's approach sends a poor message to girls, the company says it is encouraging girls to build by providing challenging projects they are interested in, according to the Wall Street Journal. While the packaging, themes and colors are different from the boys' sets, Lego Friends offers girls the same 2,000 bricks to build with.
Image Credit: Public Domain
Posted-In: Lego Lego FriendsNews Topics Global Markets General Best of Benzinga
View Comments and Join the Discussion!