FedEx Gets The Blame For Holiday Delays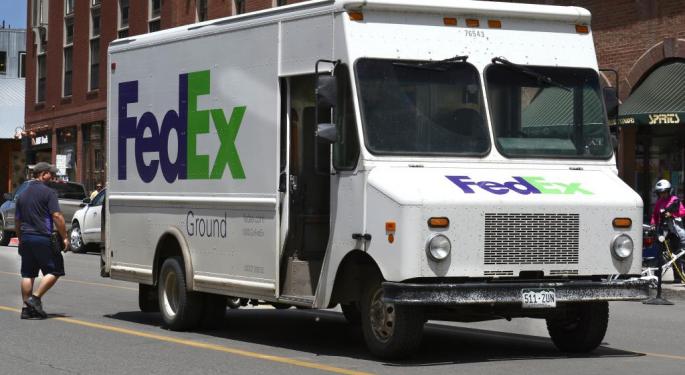 Earlier this year, analysts cautioned that the holiday shopping period would likely see an influx of online shoppers who wanted to miss the crowds and have their gifts delivered to their doors. Many said it would be a struggle for logistics firms like FedEx Corporation (NYSE: FDX) and United Parcel Service, Inc. (NYSE: UPS) to keep up with retailers' promises to deliver to last-minute shoppers in time for Christmas.
Warnings from several retailers this week suggested that some customers' packages may be missing from under the tree yet again this year.
Last Year's Delays
Last year, Amazon.com, Inc. (NASDAQ: AMZN) dealt with several unhappy customers whose orders didn't arrive in time for Christmas when weather and shipping delays affected UPS' delivery routes. This year, the e-commerce giant appears to have escaped any ill will, but other retailers have already begun apologizing for delayed shipments.
FedEx Gets The Blame
Pacific Sunwear of California, Inc. (NASDAQ: PSUN) blamed FedEx for delayed packages, citing the firm's flawed shipping system. Eddie Bauer also alerted customers that it was experiencing similar problems with FedEx as well. The delays are likely to impact sales for retailers using FedEx and could also tarnish the shipping firm's reputation as a trustworthy logistics company.
FedEx Says Retailers Share The Blame
However, FedEx released a statement on Wednesday saying that it was operating at full capacity in order to meet the demand of its busiest holiday season ever, and that customers who abide by the firm's published deadlines should get their packages in time. The firm also shot back at stores like Pacific Sun who have blamed the firm for shipping delays saying that the retailers didn't provide accurate volume forecasts, making it difficult for the firm to meet unforeseen demand.
UPS Keeping Up
UPS, which felt the heat from holiday delays last year, appears to be handling its holiday volume well so far— the company said its network was running 98 percent on time and that it had accommodated additional volume for some 200 customers.
Posted-In: News Travel Top Stories Markets General Best of Benzinga
View Comments and Join the Discussion!