Holiday Gasoline Prices Lowest Since 2008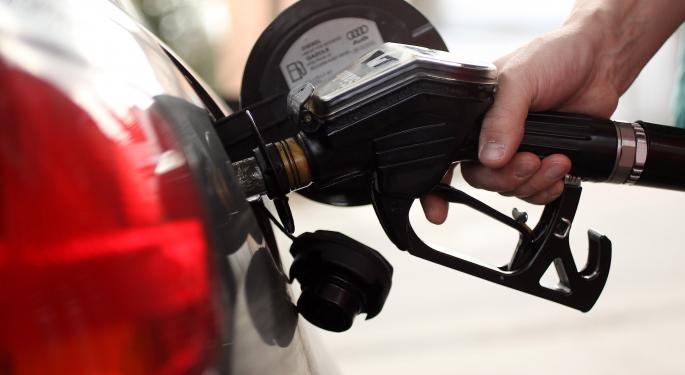 "It's beginning to look a lot like Christmas...in 2008!" said Patrick DeHaan, senior petroleum analyst at GasBuddy, a community-based gas price comparison service.
Referring to GasBuddy's projection that consumers will rack up close to $1.6 billion in savings this year as gasoline hits the lowest prices since 2008, DeHaan added, "There has not been a better time in years for motorists to extend their trips and travel farther."
Christmases Past
It wasn't that long ago, 2013 to be specific, when motorists paid $3.26 per gallon while traveling over the Christmas holidays.
The 2015 projected price per gallon of $2.02 is almost $1.25 less than the price paid at the pump just two years ago.
Related Link: Average U.S. Gas Prices Dip Below $2.00 For First Time Since 2009
Slight Temporary Hike Expected
Motorists may notice a slight uptick in prices on the busiest travel days between December 23 and January 3, the officially designated year-end travel period.
GasBuddy said it expects this upward trend to be temporary and that, thanks to weaker demand for petroleum, lower prices will prevail moving into the New Year.
Factors Affecting Local Gas Prices
Asked what factors affect the local cost of gasoline, DeHaan told Benzinga they included (in order): the price of crude oil, refining status, including maintenance issues and throughput, taxes and the cost of distribution.
"In addition," DeHaan said, "local price variation is likely due to timing of gas station purchase of inventory, competition with neighboring stations and even the supplier used."
Impact Of Paris Climate Change Agreement
Some experts have suggested the recent Paris climate change agreement could affect the price of oil, and by default, the price of gasoline moving forward.
Asked about this, DeHaan said, "It's a bit early to fully anticipate, but refiners consume massive amounts of energy and produce a lot of emissions. They may need to make costly upgrades that will trickle down to gas prices. Cap and trade could also impact motorists if implemented in more areas of US."
Survey Says: Home For The Holidays No Matter What
No matter the cause and, in many cases, no matter the cost, GasBuddy's holiday survey indicated that gasoline prices (high or low) might not dictate whether people travel over the holidays in the first place.
Only 19 percent of survey respondents indicated current fuel prices had a role in their decision to travel.
Even with prices among the lowest in years, GasBuddy still urges motorists to download the free GasBuddy app or visit www.gasbuddy.com to check gasoline prices in their area, since local prices can vary greatly.
At the time of this writing, Jim Probasco had no position in any mentioned securities.
Posted-In: gas prices GasBuddyNews Commodities Top Stories Economics Exclusives Markets Best of Benzinga
View Comments and Join the Discussion!