How Many Rate Hikes Are Coming In 2016?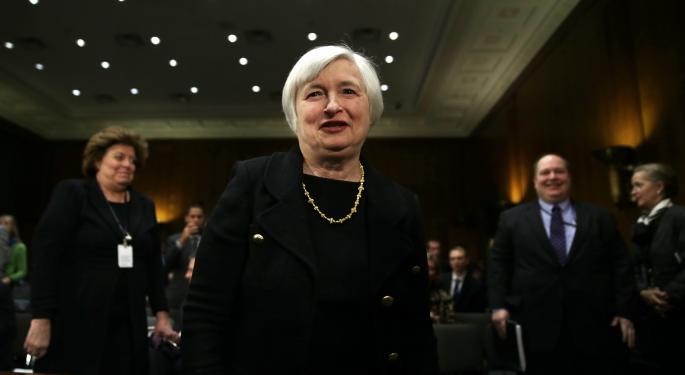 While many thought that the rate hike chatter had finally ended when the Federal Reserve decided to raise interest rates for the first time in nearly a decade at its December meeting, markets have continue to obsess about the bank's plans for interest rates in the coming year.
At its December meeting, Fed Chair Janet Yellen indicated that the bank is planning four more hikes in the coming year, something traders worry could bring markets lower.
Nothing Is Certain
However, many analysts say that the bank's 4-hike estimate is far from being set in stone, and point to this year's ongoing "will they or won't they" rate hike saga as proof that the Fed's forward guidance is never a certainty.
Yellen has been adamant in saying that the bank's interest rate decisions will be data dependent, so that means anything is possible.
Related Link: El-Erian: Rate Hike Part Of 'Loosest Tightening' In Modern History
What To Look For
Inflation is likely to be the bank's most important metric when it comes to further rate increases. As inflation increases, the Fed's interest rate will probably rise along side that metric.
Some economists say they expect inflation to rise faster than has been forecast, a prediction that would suggest that the Fed may raise rates more than four times in the coming year.
Economic Conditions Dictate Pace
Inflation isn't the only metric to keep tabs on when it comes to anticipating interest rate increases. The health of the US economy will be a hot topic as well and readings like GDP, wage growth and unemployment will all play into the Fed's decision making process.
The bank is unlikely to continue raising rates if the US economy starts to falter. Many warn that a stronger dollar and uncertain global markets could drag down the nation's recovery, something the bank will have to take into consideration when planning its next rate increase.
Posted-In: Federal Reserve Rate HikesPreviews Economics Federal Reserve Markets Trading Ideas Best of Benzinga
View Comments and Join the Discussion!