Baidu Autonomous Car Successfully Completes Rigorous, Fully Autonomous Tests in Beijing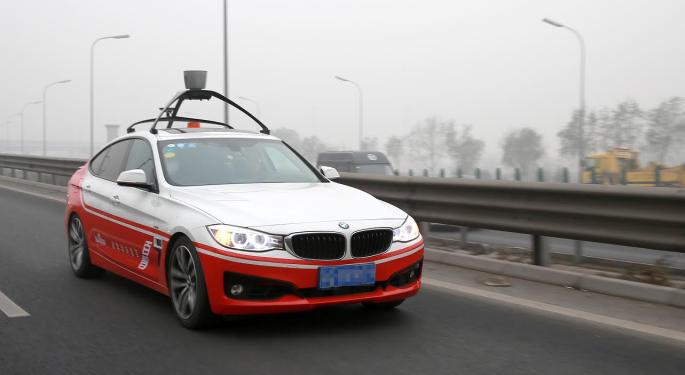 Baidu's (NYSE: BIDU) autonomous car has successfully completed rigorous, fully autonomous tests on one route with mixed roads under a variety of environmental conditions.
The 30-kilometer test drive route begins at Baidu's Beijing Headquarters near Zhongguancun Science Park in Haidian District, extends to the G7 highway, Fifth Ring Road, Olympic Park, looping back and ending at Baidu's Headquarters. The car demonstrated full autonomy on the entirety of the route and successfully executed driving actions including making right turns, left turns and U-turns, decelerating when detecting vehicles ahead, changing lanes, passing other cars and merging into traffic from on-ramps and exiting from off-ramps. The car speed peaked at 100 km per hour during the test runs.
The Baidu autonomous car is the first in China to have demonstrated full autonomy under mixed road conditions, marking a milestone in China's autonomous driving effort. The road tests were carried out under complex road conditions, and the Baidu vehicle, a modified BMW 3 Series, completed the tests by executing a comprehensive set of driving actions and accurately responding to the driving environment.
Baidu's Institute of Deep Learning, one of the three labs under Baidu Research, has led the autonomous driving project since 2013. Baidu AutoBrain, the core of Baidu's autonomous driving technology, includes highly automated driving (HAD) maps, positioning, detection, and smart decision-making and control. Baidu AutoBrain showcases the company's advanced automotive vertical technologies, and highlights its cutting-edge big data and advances in artificial intelligence.
Baidu's autonomous car approach is to advance incrementally through different environments, rather than through different levels of driving autonomy. For example, a bus that runs the same fixed route will be able to fit a very reliable model for that route, training computer vision and other deep learning systems through repetition, and further expanding the number of routes mapped by HAD mapping. Within five to ten years, the majority of China's roadways could be mapped with HAD mapping.
Posted-In: News Press Releases
View Comments and Join the Discussion!