EXCLUSIVE: ChemChina Expected To Bid $44 Billion For Syngenta In All-Cash Deal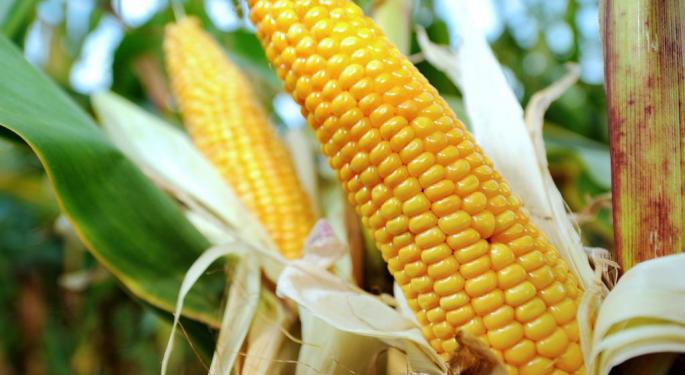 Syngenta AG (ADR) (NYSE: SYT) shares are up on Wednesday after the "mother of all" chemical mergers is reportedly being considered between Dow Chemical Co (NYSE: DOW) and EI Du Pont De Nemours And Co (NYSE: DD).
According to a source familiar with the matter, Syngenta could be next. China National Chemical Corp, commonly known as ChemChina, is said to be considering a purchase of Syngenta in a deal that may be announced by Friday.
Editor's note: On December 22, Syngenta Chairman Michel Demare said the company is in talks with, among others, Monsanto and ChemChina, according to Swiss paper Finanz Und Wirtschaft.
The value of the deal is expected to be 44 billion Swiss francs ($44.53 billion), trumping a $42 billion buyout offer ChemChina reportedly made for Syngenta in mid-November. HSBC is one bank working on the deal, the source added.
After rejecting ChemChina's first offer on November 12, Bloomberg reported both sides could reach an agreement "within weeks."
Syngenta told Benzinga in an email that it "has no comments to make" on the matter, while an HSBC analyst declined to comment. ChemChina could not be immediately reached for comment.
Deal 'Makes Sense'
Speaking to Benzinga, a sell-side analyst said a deal between ChemChina and Syngenta "makes sense to some extent," adding that the acquirer has a "strategic desire to capture new chemical production."
Industry expert Angie Setzer said she expects either Monsanto Company (NYSE: MON) or ChemChina to purchase Syngenta eventually. A ChemChina tie-up would have "far less hoops to jump through from an anti-trust standpoint" than Monsanto, she explained, adding that Syngenta might also prefer gaining exposure to a new customer base in China.
All Cash
In August, Monsanto dropped its $46 billion cash-and-stock bid for Syngenta because the offer didn't meet Syngenta's standards.
ChemChina's new offer for Syngenta is expected to be in all cash, the aforementioned source said.
Jake Mann contributed to this report.
View Comments and Join the Discussion!
Posted-In: M&A News Rumors Top Stories Market-Moving Exclusives Exclusives Hot Movers Best of Benzinga