TerraForm Gets Better Terms On Vivint Solar Merger After David Tepper Calls Deal Unfair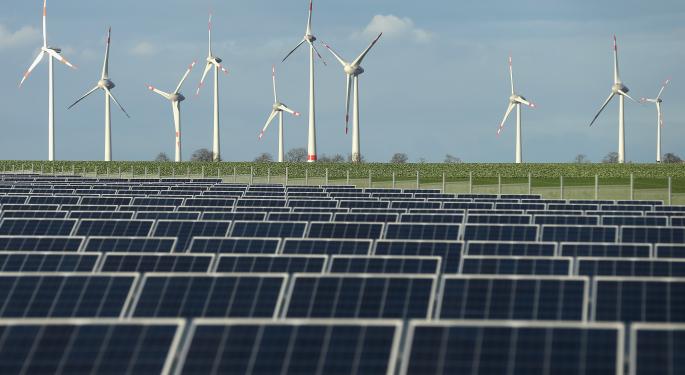 TerraForm Power Inc (NASDAQ: TERP), the renewables yield company, on Wednesday announced it has improved the terms of its agreement and has revised the Vivint Solar portfolio of installed residential rooftop solar systems in connection with the planned merger of Vivint Solar Inc (NYSE: VSLR) with a subsidiary of SunEdison Inc (NYSE: SUNE).
Shares of TerraForm Power were recently up more than 20 percent at $10.50.
SunEdison said it would cut the cash portion of its offer for Vivint Solar by $2.00 to $7.89 per share. The stock end of the offer has been raised by $0.75 per share. Blackstone Group LP (NYSE: BX) also came into an agreement to provide a $250 million credit facility. TerraForm is set to acquire Vivint Solar's rooftop solar portfolio for about $799 million in relation to the number of installed megawatts (MW) which are likely to be delivered at closing. The acquisition is subject to any solar portfolio debt that may be reduced by TerraForm.
Initially, TerraForm was to purchase Vivint's solar portfolio of 523 megawatts for $922 million back in July. Appaloosa Management LP's David Tepper had called the company out in an SEC filing earlier this month, questioning TerraForm's acquisitions in the Vivint solar portfolio deal.
Related Link: Why This Noted Solar Bear Suggests Adding To Short Position In SolarCity
Tepper stated that the initial price that TerraForm said it would purchase for Vivint Solar wasn't fair.
"Second, the basic terms of the transaction are by no means fair to TERP. The effective purchase price, approaching $1.84 per watt including transaction costs, is high by market standards of last July and even higher by today's standards," Tepper said in the letter to the SEC.
"As we've already noted, acquiring these assets (particularly in such massive a quantity) deviates from TERP's business mandate and serves to benefit only SUNE. SUNE clearly covets the Vivint development operations that it needs to offset defects in its own capabilities and market position, which it has ceded to competitors such as Solar City, SunRun, and others. The Purchase Agreement thus facilitates SUNE's acquisition of the capabilities it lacks, and forces TERP to acquire inferior rooftop assets at an inflated price in order to subsidize the cost of the SUNE/Vivint merger," the letter said.
Tepper has since further raised his stake in TerraForm from 9.25 percent to 9.5 percent. The company has purchased an additional 200,000 shares and now has a total of 7.6 million TerraForm shares, according to a Tuesday filing with the SEC.
Posted-In: Appaloosa Management David TepperNews Hedge Funds Global Movers Trading Ideas General Best of Benzinga
View Comments and Join the Discussion!