Is Adele Giving Pandora's Stock A Boost? Maybe, But A Major Copyright Overhang May Have Just Been Removed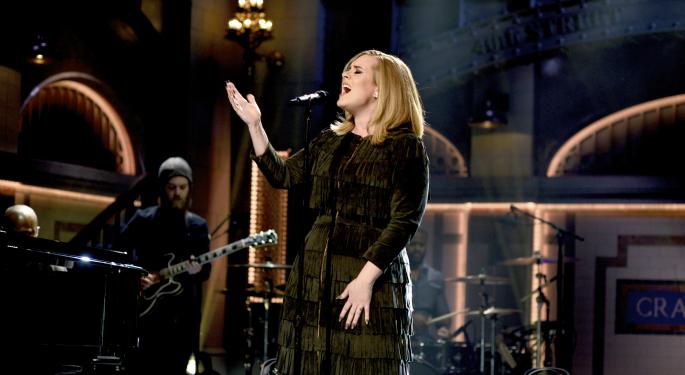 Adele's much anticipated album, "25", is now available for streaming on Pandora Media Inc (NYSE: P).
Adele's album is currently not available on Pandora's peers, including Apple Inc. (NASDAQ: AAPL)'s Apple Music and Spotify.
However, investors are perhaps more focused on the Register of Copyrights delivering a Memorandum Opinion.
Looking to listen to Adele's new album? Don't bother looking for it on Spotify or Apple Music. You can, however, find it Pandora.
A Pandora spokesperson confirmed in a statement to Entertainment Weekly that Pandora's listeners can now hear all songs from Adele's much-anticipated album through its streaming music platform.
"Since 'Hello' was added to our platform last month, her total station adds are up 1200 percent," the company noted in its statement. "Within that same timeframe, spins for 'Hello' are more than 5x the number for the next most popular song 'Someone Like You.'"
Meanwhile, Spotify said in a statement that it "hopes" Adele will give the 24 million fans who follow her on Spotify the opportunity to enjoy "25."
Shares of Pandora gained nearly 5 percent early Wednesday morning, but this is probably attributed to a major announcement from the Register of Copyrights regarding Webcasting.
Labels to Be Paid The Same Statutory Rate Over The Next Five Years
While music lovers are embracing Adele's addition to the Pandora library, investors are equally focused on an announcement by the Register of Copyrights regarding Webcasting IV which eased investor concerns over the possibility of Pandora paying higher webcasting rates.
Large and independent labels will be paid the same statuary webcasting rates over the next five years, Pandora stated in a press release.
According to Billboard, the Register determined the concept of differential rates did not arise during the proceeding when the participants had the opportunity to do so.
"The question referred by the Judges asked whether they were prohibited by the governing statutes from setting rates and terms that may differ across different types of categories of licensors – in essence, whether they can set statutory webcasting royalty rates that vary depending on the identity or category of the record company that owns the recordings performed by a webcaster," Pandora's press release noted.
"The Register further stated that because all participants in the Web IV proceeding had assumed a non-differentiated rate structure for licensors, that is the only reasonable outcome in the Web IV proceeding," the press release added.
"Pandora supports a uniform rate structure for all musicians," said Dave Grimaldi, director of public affairs at Pandora in the release. "We look forward to the certainty the CRB's December decision will bring to the music industry, particularly as Pandora continues to improve our partnerships with music makers."
Posted-In: Adele Adele 25 Apple Music BillboardNews Legal Top Stories Tech Best of Benzinga
View Comments and Join the Discussion!