Meet The Data Company Changing How We Think About Presidential Polls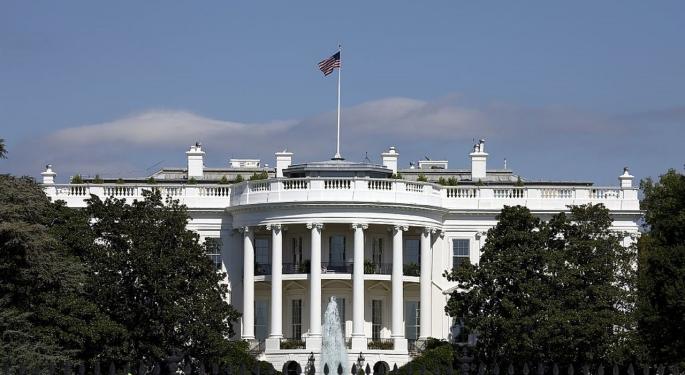 ElectionPulse measures voter interest based on Internet traffic on selected websites.
The behind-scenes-engine, DataPulse, could be a huge help to businesses regarding trademark infringement, among other areas.
Teaching machines to look for similarities is key to this technology.
An innovative method for measuring voter interest in 2016 presidential candidates is backed up by no-nonsense, leading edge technology that can be used to help businesses protect themselves against trademark infringement, provide marketing and brand analysis and even guard against security threats.
ElectionPulse analyzes activity on the principal campaign Internet domains of presidential candidates and draws conclusions that sometimes differ from those of national polls.
Jeff Schmidt, DataPulse CEO spoke with Benzinga about ElectionPulse and about the more serious side of DataPulse.
Related Link: Who's Waging All Those Cyber Attacks And Who's Going To Stop Them?
Benzinga: What's the history behind ElectionPulse and DataPulse? How did the ideas germinate?
Jeff Schmidt: Over the past couple of years, my company, JAS Global Advisors, has done a number of engagements that have had big data components to them. In addition, I worked on a quantitative report as a Zurich Cyber Risk Fellow on the Atlantic Council.
At the same time, there was a startup called simMachines, founded by Dr. Arnoldo Muller-Molina. Dr. Muller-Molina's entire raison d'être - his entire life in PhD research – involved high performance similarity algorithms.
What that means is looking at a gigantic pile of data and finding things that are similar and making groups. That is one of the central problems in big data analytics – making the groups.
With our subject matter expertise in Internet data and their work in being able to do high performance similarity, we've found a couple of interesting things over the years – one of which was the JASBUG.
We formed DataPulse as a joint venture between the two of us to look at ways to continue to explore this analysis of data.
ElectionPulse is, quite honestly, just for fun. We have some data folks may find interesting. We're not selling it to anybody at this point. We're just putting it out there for fun and for awareness of DataPulse.
BZ: So, how does ElectionPulse work?
JS: We are keeping some of our sources and methods proprietary and super-secret.
In general, we have access to a significant amount of technical Internet infrastructure data from multiple sources. This is the technical "under level" of the Internet – things like routing and IP and all that sort of stuff.
Human beings are good at similarity. Machines are notoriously bad at it. They are simply not good at nuanced analysis.
Dr. Muller-Molina's technology has the ability to look at gigantic piles of data and quickly make groups out of them – even if the groups are not obvious.
BZ: How does ElectionPulse sometimes arrive at completely different conclusions when compared with standard polling?
JS: In a word, we don't know. We have theories. Remember: a poll is measuring something different. A poll measures how somebody answers a question. Polls have varying abilities to predict how people will actually go vote.
ElectionPulse is measuring technical Internet activity around a candidate's official Web presence.
One theory is that people such as Carly Fiorina with her technical background are able to drive more activity because she and her team are more technically active on the Internet.
The inverse of that theory applies to people like Carson and Trump. There's a theory that these nontraditional candidates with their nontraditional operations may not yet be fully leveraging their Web presence in a way that's driving traffic to it.
Another theory is that people go to websites to get information. It's possible that the sort of campaigns Trump and Carson are running are not dependent on people going and learning about the candidate.
It's possible that Carson and Trump poll high because people like what they hear, but have not yet gone and done the "deep dive" to learn more.
BZ: How often will ElectionPulse reports come out?
JS: Every Tuesday and the morning following an event like a debate.
For example, following the most recent Democratic debate, ElectionPulse indicated Clinton had a huge surge in Internet activity.
The morning after the last Republican debate, the ElectionPulse headline was "Rubio dominates GOP Internet activity during fourth debate."
Related Link: Victorinox Awarded $9.8 Million In Trademark Lawsuit
BZ: Given the statement that ElectionPulse is "just for fun,&dsquo; what about DataPulse as a whole? What's the more serious, business side of this technology?
JS: We're obviously interested in greater things. We already offer services regarding trademark infringement and other things that utilize the abilities of DataPulse.
The application of these sort of analyses has some immediate applications. In addition to trademark infringement, marketing and branding could be a huge part of what DataPulse does. After all, at the end of the day, a political candidate is a brand.
You could extrapolate some ideas for service offerings for a brand manager or in a big multi-national that hundreds of thousands of brands under their umbrella.
My background in JAS is in the security space, and there are obvious applications here for security while detecting threat actors. All of those sorts of things are well within our capability.
We're acting like a scrappy startup and look forward to lots of exciting times ahead.
At the time of this writing, Jim Probasco had no position in any mentioned securities.
Image Credit: Public Domain
View Comments and Join the Discussion!
Posted-In: 2016 presidential candidates Arnoldo Muller-MolinaPolitics Top Stories Exclusives Tech Interview General Best of Benzinga