Short-Term Chipotle Investors Lose From E. Coli Outbreak; Is Your Portfolio At Risk?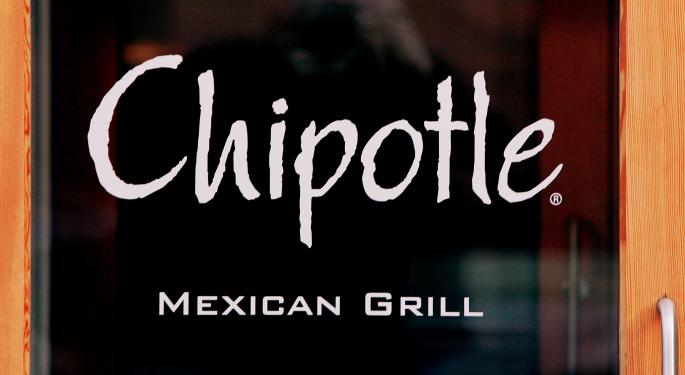 Shares of Chipotle Mexican Grill, Inc. (NYSE: CMG) were trading lower by more than 5 percent before Monday's opening bell.
The company announced on Sunday that all of its restaurants in Seattle and Portland have been closed due to a reported E. coli outbreak.
The company added that the vast majority of its stores reported no problems, but various health department officials confirmed that customers have been sick following visits to its stores.
Chipotle Mexican Grill closed dozens of stores in two West Coast markets. The losses are on top of the more than 10 percent decline seen in its stock over the past month and shares are within striking distance of its 52-week low of $597.33.
Chipotle's stock traded above the $750 mark on October 13 and have now lost nearly $150 per share and have since sold off after the company's third-quarter profits fell short of expectations.
Related Link: What Everyone Is Saying About Chipotle After The Earnings Crash
Investors and traders found even more reason to be bearish on the stock on Monday after the company said on Sunday that it has closed all of its restaurants in Seattle, Washington, and Portland, Oregon following a reported outbreak of E. coli bacteria.
Chipotle acknowledged in a statement to Reuters that there are approximately 20 cases of E. coli that have been reported in the two markets. The company added that the outbreak includes customers who ate at six of its restaurants.
Chipotle added that the vast majority of its stores in the markets reported no problems.
Nevertheless, Sunday's announcement marks the third outbreak of food contamination at restaurants since August.
Reuters stated the Oregon Health Authority has confirmed three cases of E. coli and at least 19 in Washington have been linked to eating at Chipotle restaurants since October 14.
No deaths have been reported and one third of affected customers required treatment at a hospital.
"Health officials want people who have eaten at a Chipotle between October 14 and 23, and become ill with vomiting and bloody diarrhea, to see their health care provider and mention this outbreak," Reuters quoted the agency as saying.
Posted-In: Chipotle E. Coli Food Bacteria Restaurant ClosuresNews Restaurants Top Stories General Best of Benzinga
View Comments and Join the Discussion!