Millennials Find Elon Musk More Admirable Than Gandhi, Steve Jobs And Barack Obama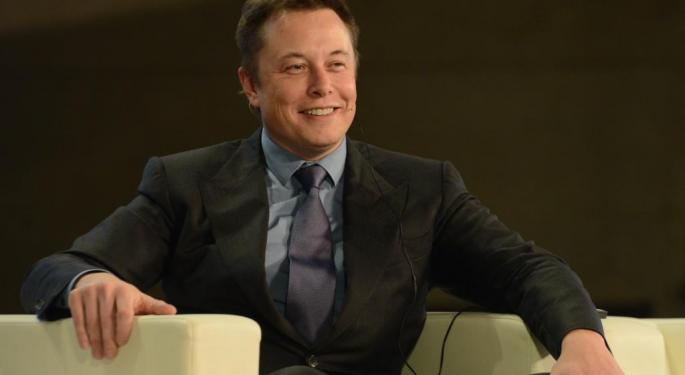 Millennials have become a point of focus for most big-name firms as their coming of age represents a seismic shift in consumer preferences. For some companies, reaching a generation that behaves so differently from past consumers has proven difficult, while others are basking in the glow of millennial approval with brand images and product offerings that resonate.
Tesla Motors Inc (NASDAQ: TSLA) is one such firm that appears to have captivated the millennial generation despite the fact that its luxury cars are often far outside the price point for an average 20-30 something. Instead, millennials are focused on the firm's CEO Elon Musk, counting the eccentric businessman as one of their heroes according to a new survey.
Millennial Survey
The World Economic Forum released a survey over the weekend in which the organization questioned 1,000 20-30 year olds from countries around the world to get an idea of what the generation was thinking. The results showed that millennials' are most concerned with social and economic equality as well as environmental preservation. The data also found that Elon Musk was considered to be the third-most admirable public figure, after Nelson Mandela and Pope Francis.
Related Link: The 21 Most Inspirational Elon Musk Quotes
Why Musk?
Musk edged out tech superstars Steve Jobs and Bill Gates, as well as political moguls like Mahatma Gandhi and Barack Obama, leading many to wonder what it is that Musk is doing right. It's no question that Musk is one of the brightest minds of the 21st century — he has been responsible for some of the decade's most innovative firms including Tesla, SpaceX and PayPal Holdings Inc (NASDAQ: PYPL). But many wonder what has set the investor, engineer and business leader apart from rivals.
A New Way Of Thinking
One reason Musk's accomplishments may stand out to millennials is the reasoning behind his efforts to innovate. An outspoken supporter of sustainability and environmental protection, Musk's electric cars represent more to millennials than just technology. His views align with millennials' priorities, so Musk's achievements might mean more to them than others', which they see as simply furthering the tech revolution. Baby Boomers tended to admire hard work and business savvy when it came to well regarded public figures, but with so many success stories bubbling out of Silicon Valley these days, it takes something more to impress millennials.
Speaking To A Generation
Musk has also tapped in to the power of social media, making his opinions more accessible to the millennial generation. Known for his debate-worthy tweets, Musk has given millennials something to talk about, whether it be space travel for private individuals or self-driving cars. His presence on Twitter Inc (NYSE: TWTR) has given millennials who may not follow traditional news outlets a chance to get to know him and become familiar with his projects.
A Voice On The Issues
Not only is Musk outspoken about his own projects, but he is willing to give his opinion on important issues as well. As the refugee crisis worsened in Europe, Musk cautioned that solving this problem would be putting a Band-Aid on a larger issue. He used the platform to further his climate change concerns saying that environmental issues will eventually create a shortage of food and water, leading to a much larger number of desperate refugees.
While some criticized Musk's remarks as marketing ploys for Tesla and SolarCity Corp (NASDAQ: SCTY), Musk said he wanted to use the opportunity to draw attention to an important cause. It's that unapologetic attitude that has earned him the respect of one of the most influential generations.
Related Link: No, Elon Musk Can't Legally Nuke Mars – Space Lawyer Explains Why
Thinking Outside The Box
Musk is also well known for his out-of-the-box thinking and over the top ideas. One of the first business men to proclaim that leisure space travel could become a possibility within his lifetime, Musk is classed as a dreamer who gets things done. Tesla's earnings calls typically make headlines as Musk often makes bold predictions and isn't afraid to shock investors.
Bottling Musk
The World Economic Forum survey results are likely draw attention from other big brands that are battling to get attention from the ever important millennials. Musk's popularity suggests that social activism is a good way to make a brand memorable and that company morals may be just as important as innovation. Musk's appeal to millennials comes from a combination of impressive achievements and strong personal convictions, something most CEOs are unable to get across.
Posted-In: Elon Musk Gandhi Mahatma GandhiNews Psychology Top Stories Success Stories General Best of Benzinga
View Comments and Join the Discussion!