Chipotle Says Carnitas Are Coming Back To 90% Of Restaurants, But What's It Mean For Investors?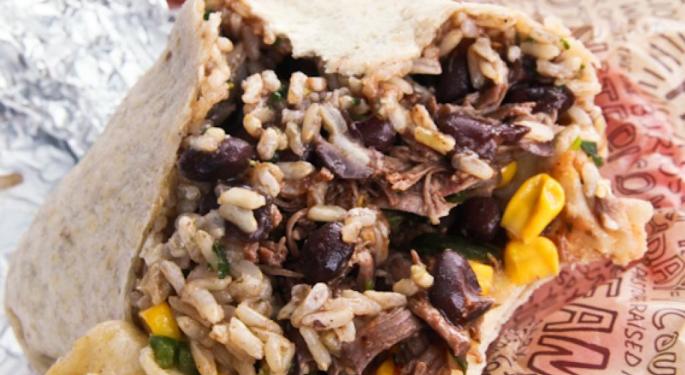 Chipotle has announced that carnitas will be returning to all of its locations by November.
The chain's new pork supplier, Karro Food, will step in to meet the demands of a supplier that was dropped earlier this year due to noncompliance with animal welfare standards.
Chipotle's share price has shown little reaction to the news.
Chipotle Mexican Grill, Inc. (NYSE: CMG) announced Monday that carnitas will once again be available at 90 percent of the company's locations. Chipotle removed carnitas from the menu at over a third of its locations earlier this year when one of its primary pork suppliers was discovered to be in violation of the company's policies regarding the use of antibiotics.
The Policy
Chipotle requires that pigs raised by its suppliers must have access to the outdoors or deeply-bedded barns, must not be kept in gestation crates and must not be treated with antibiotics. In January, when an auditor found that one of Chipotle's suppliers was in violation of the company's animal welfare policies, the company made the tough decision to suspend carnitas from many of its menus until a replacement supplier was found.
The New Supplier
After searching long and hard, Chipotle found U.K. supplier Karro Food to meet the chain's pork demand. "When our meat buyers and animal welfare team toured their farms, they were excited about the quality of the meat Karro is producing and the ways in which their farming practices emphasize what's best for the animal above all else," Chipotle writes on its website.
The company now expects to have carnitas back in all of its U.S. locations by November.
What Does It Mean For Shareholders?
In the month following Chipotle's January announcement that it was removing carnitas from many of its menus, Chipotle's stock fell 4.9 percent. However the announcement of the return of carnitas has done little for the stock so far this week, as Chipotle was trading down about 1 percent on Monday.
Chipotle has received a great deal of praise over its progressive animal welfare policies. A recent report by Friends of the Earth, the Natural Resources Defense Council and four other health organizations named Chipotle and Panera Bread Co (NASDAQ: PNRA)'s antibiotic use policies as the top scoring policies in the fast food and fast casual restaurant space.
Disclosure: the author holds no position in the stocks mentioned.
Image credit: Steven Depolo, Flickr
Posted-In: Carnitas Karro Food PorkRestaurants General Best of Benzinga
View Comments and Join the Discussion!