Dennis Gartman Calls Out Zero Hedge
Zero Hedge is known to hold Dennis Gartman's feet to the fire. Recently Zero Hedge has documented the flip-flop analysis Mr. Gartman shares nearly daily on CNBC. Analysis which when bearish leads to bullish market moves and vice verse. As a rebuttal to Zero Hedge Mr. Gartman uses a series charts Zero Hedge showed over the weekend in defense of the thesis they have proclaimed which is that we are on the cusp of a "looming recession". The charts indicate a recession is coming, however Mr. Gartman says otherwise:
"Simply put, the things that should be moving "from the lower left to the upper right" on the chart such as "Workers Share of the Economy," or Median Family Incomes, or Home Ownership or Labor Force Participation are instead moving "from the upper left to the lower right." Conversely, those things that should be moving from the upper left to the lower right, such the high and rising level of Student Loans, or the number of Americans on Food Stamps, or the Federal Debt or Health Care Costs are moving in the diametrically opposite and wrong direction."
And there you have it, Dennis Gartman's admits to reading Zero Hedge, uses their charts to amplify the "looming recession" storyline and then says Presidential Candidates "would do well to keep these charts handy" and says nothing about the sites constant hammering on his daily market commentary.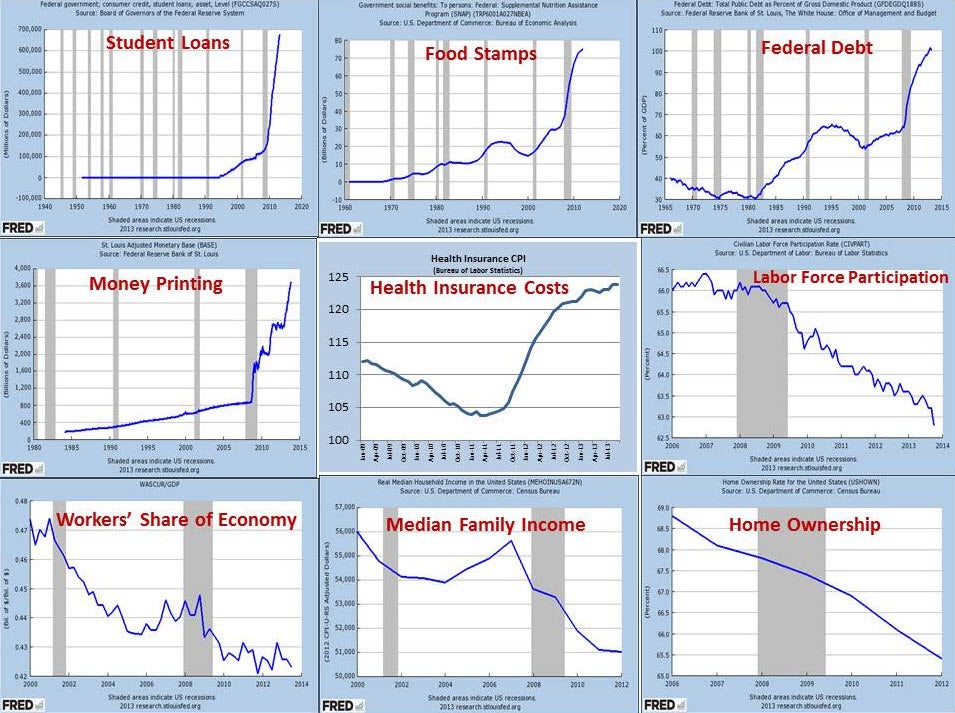 Posted-In: News
View Comments and Join the Discussion!