Dollar General, Freeport-McMoRan And Others That Insiders Have Been Buying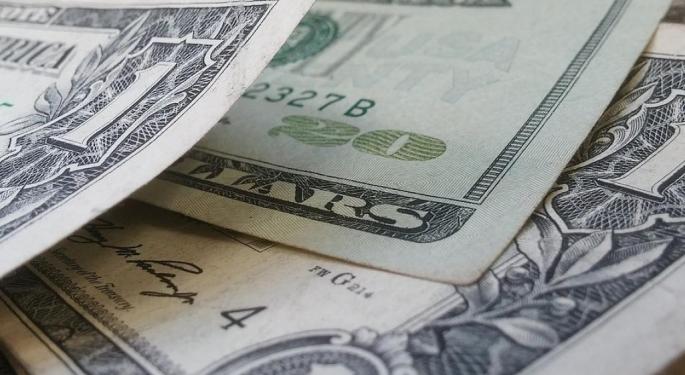 Whether the recent volatility has brought out bargain hunters in force remains to be seen. However, one thing that is clear is that insiders and beneficial owners are taking advantage of the turmoil.
Conventional wisdom says that insiders and 10 percent owners really only buy shares of a company for one reason -- they believe the stock price will rise and they want to profit from it. The third-quarter earnings reporting season has yet to begin, closing windows for many insiders, so it should be no surprise that executives, directors and even hedge funds are leaping at newfound bargains.
Recently, some of the most significant insider buys have been in the likes of Dollar General, Freeport-McMoRan and Gap.
Aircastle
Japanese trading company Marubeni has resumed scooping up batches of Aircastle Limited (NYSE: AYR), as it has done for more than a year. That included more than 181,000 of them so far this month, for more than $3.7 million. Jet-rental company Aircastle has been a rumored takeover target.
Its market capitalization is about $1.7 billion and the dividend yield is about 4.3 percent. The operating margin is greater than the industry average. Shares dropped sharply in mid-August and have started to recover. Over the past six months, the stock has outperformed competitors Aercap and Air Lease.
See also: Now We Know Exactly How Much Tesla Stock Elon Musk Bought
Anixter International
Director Sam Zell picked up a huge 1.85 million shares of Anixter International Inc. (NYSE: AXE) recently. At $60.60 per share, that cost him more than $112 million. Anixter has posted some of the strongest earnings among its peers.
This Illinois-based maker of cable, switches and fasteners has a market cap near $2.0 billion. The price-to-earnings ratio is less than the industry average and the return on equity is about 16 percent. Shares fell to a multiyear low just ahead of the transaction, and they ended trading on Friday at $61.72.
Citrix Systems
Funds Elliott Associates and Elliott International have bought $23.2 million worth of Citrix Systems, Inc. (NASDAQ: CTXS), or nearly 341,000 shares between $67.61 and $68.51 apiece. The funds' manager is Paul Singer, who began buying Citirx shares in June.
This enterprise software and services provider has a market cap of almost $11 billion and a long-term EPS growth forecast is more than 13 percent. Shares dropped sharply in August but have yet to recover. Note that shares ended Friday's trading session at $67.89, still near the purchase price.
Dollar General
In the wake of better-than-expected earnings, two directors picked up a combined 43,000 Dollar General Corp. (NYSE: DG) shares at between $71.45 and $73.98 apiece. The total for those transactions came to more than $3.1 million.
This Tennessee-based retailer has a market cap near $21.4 billion and a dividend yield of about 1.2 percent. The return on equity is more than 20 percent. The earnings report gave shares only a brief respite from the August sell-off. Shares ended trading on Friday at $72.56, so no quick gains were seen here either.
Freeport-McMoRan
About the time Carl Icahn revealed a stake in the company, the chairman bought 100,000 shares of this mining and petroleum giant. At $10.57 per share, that was worth almost $1.1 million.
The market cap of Freeport-McMoRan Inc (NYSE: FCX) is around $10.1 billion, and the dividend yield is about 2.0 percent. The operating margin is greater than the industry average, but short interest is about 6 percent of the float. The share price ended last week at $9.71, below the chairman's buy price.
See also: Insider Buying Heats Up In Tesla, Boston Scientific, Freeport-McMoRan & Others
Gap
Two Gap Inc (NYSE: GPS) directors and a beneficial owner together bought more than 13 million shares recently. At $33.00 per share, that cost them about $430.3 million. Recent earnings left analysts unimpressed.
This $13.3 million market cap apparel retailer has a dividend yield near 2.8 percent. The return on equity is almost 40 percent, but short interest is about 12 percent of the float. Shares are down about 8 percent year-to-date, about the same as the S&P 500, and they ended last week at $32.41.
At the time of this writing, the author had no position in the mentioned equities.
Keep up with all the latest breaking news and trading ideas by following Benzinga on Twitter.
Posted-In: Aircastle anixter international Citrix Systems dollar general Freeport-McMoran GAPNews Insider Trades Best of Benzinga
View Comments and Join the Discussion!