Brazilian Real, Bovespa Fall To End A Turbulent Week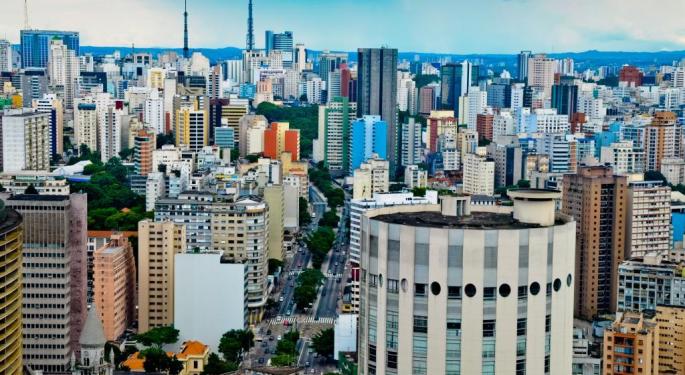 Brazil had a tough week. The real fell more than 7 percent over the week, while the Sao Paulo Stock Exchange lost roughly 1.4 percent.
Both continued to decline on Friday: the real plummeted more than 3 percent versus the U.S. dollar and the stock exchange tumbled 1.83 percent. After these drops, a real is worth 0.2592 U.S. dollars and the stock exchange reached 46,497.72 Bovespa (INDEXBVMF:IBOV) index points.
The declines were driven by two factors:
A load of bad news, including the presentation before the Congress of a budget for 2016 that anticipates a primary deficit, before paying debt, of 0.5 percent of the GDP
Poor overall economic conditions, reflected in a general recession, high inflation, a worrisome unemployment rate, and a corruption scandal at State-owned company Petroleo Brasileiro Petrobras SA (ADR) (NYSE: PBR), among other indicators.
A slight recuperation in the Real and Bovespa index on Thursday, triggered by the confirmation of a halt in the interest rate hike, was nothing but a hiatus on the way down.
The drops continued on Friday after Brazil's vice president allegedly told entrepreneurs and business owners that, if approval levels remain at current heights (under 10 percent), Dilma Rousseff will not complete her term as president (Diario Folha, Brazil).
Posted-In: News Emerging Markets Politics Forex Global Markets Movers General Best of Benzinga
View Comments and Join the Discussion!