Following Jackson Hole Summit, Fed Appears To Stand By Rate Hike Plans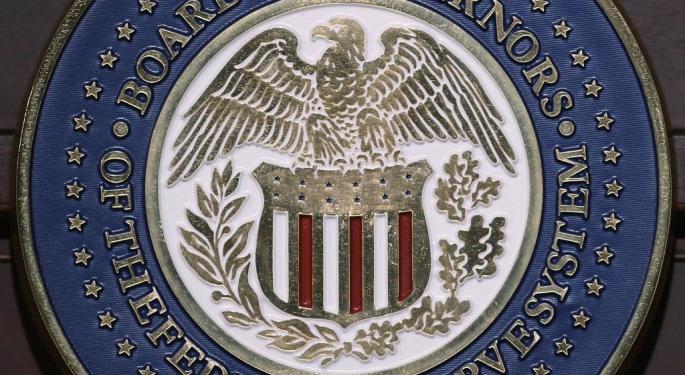 Last week, central bankers from around the world gathered in Jackson Hole, Wyoming to discuss the state of the global economy. While the conference was set to cover a wide range of topics, policymakers were largely focused on the most recent market turmoil stemming from growth worries in China.
To Hike Or Not To Hike
The U.S. Federal Reserve has been put in a difficult position as the bank's plans to raise interest rates as early as September were quashed by the most recent market volatility. The bank has been preparing markets for a rate increase for nearly a year, but global economic factors may have thrown a wrench in the bank's plans.
Related Link: Get To Know The 'Fed Hike Handbook'
Many worry that the drop in commodities and a strong U.S. dollar will put pressure on inflation and that the bank will not be able to reach its 2 percent goal. However, others say the U.S. economy is strong enough to withstand a rate increase and that the bank should proceed despite the struggles in other economies.
Central Bankers Prepared
At this weekend's summit, policymakers from around the globe indicated that they were prepared for the Fed's rate hike plans. While in town for the summit, Agustin Carstens, a central banker from Mexico said he sees a rate hike in the US as a positive. Although the bank's tightening will have consequences, Carstens believes most will see the rate hike as a sign that the U.S.' economic health is improving, something that will benefit global markets in the long run.
Fed Stands By Plans
Speaking at the Jackson Hole meeting, Fed Vice Chairman Stanley Fischer remarked that the most recent swings in the global market may not be as detrimental to inflation as many had believed. In his view, inflation has the potential to continue moving higher. Fischer said it is possible that upward pressures on inflation will outweigh negatives like oil prices and import prices.
While most expect that a September rate hike is off, the Fed appears to be sticking to its plans to raise rates before the end of the year.
Posted-In: Agustin Carstens Jackson Hole Rate HikeNews Events Top Stories Federal Reserve Markets Best of Benzinga
View Comments and Join the Discussion!