IPO Outlook: Renewable Energy Is Becoming More Affordable; Time To Buy TerraForm Global?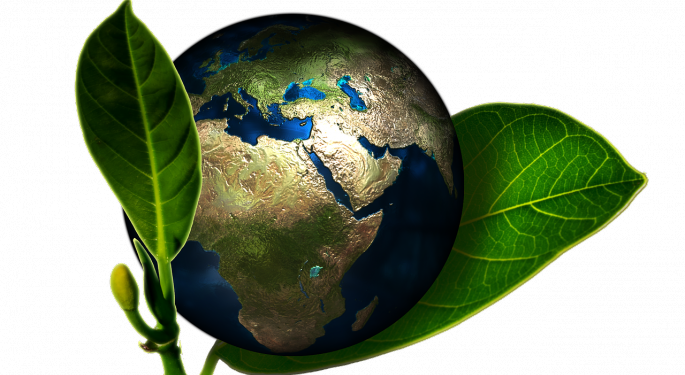 The second largest initial public offering of the year, TerraForm Global (NASDAQ: GLBL), is set to begin trading the week of July 27. The company anticipates its offering to price 56.57 million shares between $19 and $21 per share on the NASDAQ. At its midpoint, it would have a market cap of $1.13 billion.
TerraForm Global is the second spinoff of SunEdison Inc (NYSE: SUNE), creating another yield related investment opportunity meant to allow its parent company to access the value of its assets. The company is managing 42 projects around the globe with a total capacity of 1.4 GW. The SunEdison spinoff is committed to clean energy, specifically solar and wind energy development.
Related Link: Roth Names Top Solar Picks Before Earnings, Sees Buying Opportunity
To date, the company has solar projects in China, India, South Africa, Honduras, Uruguay, Malaysia and Thailand. Wind projects are located in China, Brazil, India, South Africa, Honduras, Costa Rica and Nicaragua. Hydro-electric projects are in Brazil and Peru.
According to its S-1, "Our business objective is to increase our dividend to stockholders by continuing to acquire, from SunEdison and unaffiliated third parties, clean power generation assets."
It feels the market opportunity is strong. Technology is bringing down the cost of alternative energy sources, in some cases creating "grid parity" in some markets. Grid parity occurs when renewable energy costs are equal or below traditional energy costs, such as with fossil fuels.
Financials
Spinoffs create an opportunity for investors to buy into a group of revenue producing assets and profit from its independent existence. In the case of TerraForm, for the three months ending March 2015, it has $685 million of assets producing $17.8 million of revenue. Currently, it operates at a net loss of $11.3 million per year.
After its offering, it will use its proceeds (in millions) to repay a $462.5 bridge loan, $854 in acquisitions, $957 in project-level debt and $162 worth of expenses. Sources of the fund will be $1.1 billion in its stock offering, a small private placement, $437.7 million from current cash on the balance sheet and $800 million worth of new senior notes.
TerraForm Global is SunEdison's second spinoff. Last year, TerraForm Power (NASDAQ: TERP) raised almost $600 million by issuing 23 million shares. It priced at $25, the high end of its range and opened its first day at $33.26. Since then it traded down to $21.58 before peaking at $42.66. It currently trades at $32.27.
Since 2010, nine electric related companies have begun trading. Of the nine, only three had a positive return after one month from its first day close. TerraForm Power traded down nearly 7 percent in its first month. The worst performer, Sky Solar Holdings Ltd (ADR) (NASDAQ: SKYS) traded down 30 percent. Ameresco Inc (NYSE: AMRC) traded up 10 percent in its first month back in 2010. Since then, its share priced crumbled. Today, it trades down 35 percent from its first close.
Related Link: Credit Suisse: SunEdison-Vivint Good For Solar
Underwriting
The deal is being managed by JPMorgan, Barclays, Citigroup, Morgan Stanley, Goldman Sachs, Merrill Lynch and Deutsche Bank. Investors interested in the deal can look for it to price the evening of Thursday, July 30.
This Week's Other Offerings
Wednesday
NantKwest (NASDAQ: NK): Expect 7 million to price $20 to $23 through Bank of America Merrill Lynch, Citi, Jefferies and Piper Jaffray.
Thursday
Poseidon Containers Holdings Corp. (NYSE: PCON): Expect 15.4 million shares to price between $14 and $16 through Morgan Stanley, Deutsche Bank, UBS, Citi, Jefferies and ABN AMRO.
vTv Therapeutics (NASDAQ: VTVT): Expect 7.8 million shares to price between $15 and $17 through Piper Jaffray and Stifel.
Friday
TerraForm Global (NASDAQ: GLBL): Expect 56.6 million shares to price $19 to $21 through JPMorgan and Barclays.
NEP Group (NYSE: NEPG): Expect 13 million shares to price between $15 and $17 through Barclays, Morgan Stanley, Jefferies, Macquarie and RBC.
Riverbanc Multifamily Investors (NASDAQ: RMI): Expect 3.8 million shares to price between $19 and $20 through Baird, KBW and SunTrust Robinson Humphrey.
Image Credit: Public Domain
View Comments and Join the Discussion!
Posted-In: News IPOs Trading Ideas