Benzinga's M&A Chatter for Tuesday July 7, 2015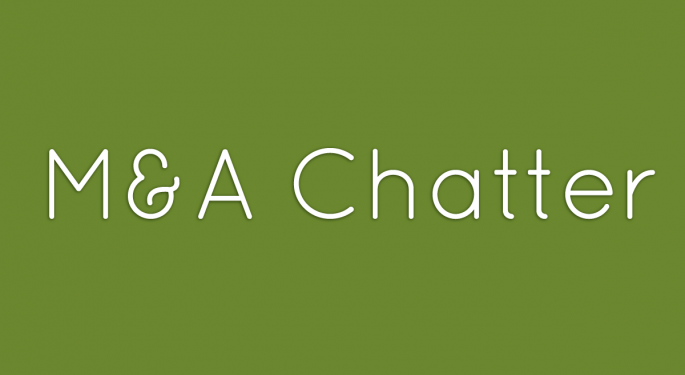 The following are the M&A deals, rumors and chatter circulating on Wall Street for Tuesday July 7, 2015:
Horizon Pharma Announces Offer for Depomed of $29.25 in Stock
The Offer:
Horizon Pharma plc (NASDAQ: HZNP) announced Tuesday, a proposal to acquire all outstanding shares of Depomed, Inc. (NASDAQ: DEPO) for $29.25 in Horizon shares, or approximately $3.0 billion.
Depomed confirmed that it received the proposal from Horizon Pharma, stating it is not in the best interest of Depomed shareholders.
Depomed shares rose 38% Tuesday, closing at $28.62.
EXOR Announces New Enhanced Terms for PartnerRe Shareholders
The Enhanced Offer:
EXOR S.p.A. (OTC: EXOSF), the largest shareholder of PartnerRe Ltd. (NYSE: PRE) held an investor meeting in New York City on Tuesday, for PartnerRe shareholders. EXOR Chairman and CEO John Elkann, announced further enhancements to its $137.50 per share all-cash offer: 1) EXOR will permit PartnerRe to actively solicit bids, share due diligence materials and negotiate with third parties until August 31, 2015, so that shareholders have assurance that the EXOR Binding Offer remains the superior alternative for the company. 2) PartnerRe and AXIS agreed to a termination and expense reimbursement fee of $315 million, worth $6.39 per share to PartnerRe shareholders. If both
PartnerRe and AXIS shareholders vote down the PartnerRe/AXIS transaction, EXOR commits to pass the value on to PartnerRe shareholders in full, effectively increasing the value of its binding offer to $143.89 per share.
Also included in the enhancements are a 100bps increase in the dividend rate, call protection for preferred shares until January 1 , 2021 and 5 years of capital distribution limits.
PartnerRe shares rose $0.49 Tuesday, closing at $131.49
EMC to Sell Syncplicity to SkyView Capital LLC
The Deal:
EMC (NYSE: EMC) is selling Dropbox competitor Syncplicity to SkyView Capital LLC. Financial terms were not disclosed.
EMC shares rose 1% Tuesday, closing at $26.60.
View Comments and Join the Discussion!