How Morbid Are Big Banks' New 'Living Wills'?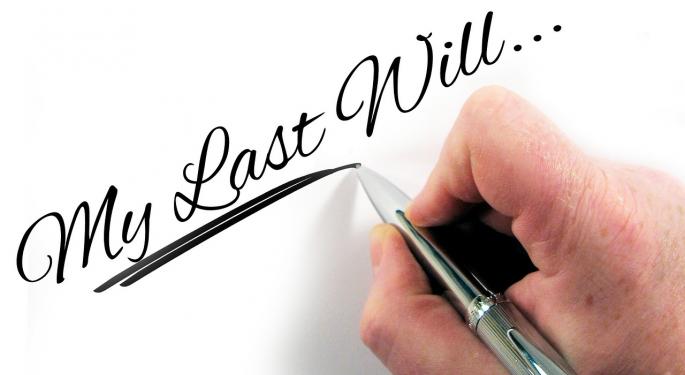 In the event of another severe financial crisis, three U.S. banking giants could end up going the way of the dodo, or at least the way of Lehman Brothers. According to the public portion of the large U.S. banks' "living wills," a new post-crisis regulatory requirement, Goldman Sachs Group Inc (NYSE: GS), Citigroup Inc (NYSE: C) and Morgan Stanley (NYSE: MS) would completely wind down their businesses in the event that a crisis forces their bankruptcies.
Preventing Another Crisis
After the banks' 2014 living wills were harshly criticized by regulators for their inadequacies, the banks seem to have taken the next step this year in planning their hypothetical demises.
The banks are not required to completely dissolve their businesses in their living wills; the objective is to plan for another worst-case scenario to prevent the types of chaotic scenarios that occurred during the Financial Crisis, which required government intervention and taxpayer bailouts for many of the U.S.'s biggest banks.
Related Link: Which Crisis Is Worse: Greece Or China?
Other Big Names
While Goldman Sachs, Citi and Morgan Stanley are content to wave the hypothetical white flag, JPMorgan Chase & Co. (NYSE: JPM) has indicated that it would plan on emerging from bankruptcy with a core banking business that has been reduced in size by a third and a broker dealer business that has been reduced by two-thirds.
According to the wills of both Bank of America Corp (NYSE: BAC) and Wells Fargo & Co (NYSE: WFC), both banks also plan to emerge from a potential bankruptcy with scaled-down operations.
What's Next?
The big banks obviously intend to avoid the Doomsday scenario that would lead to their demises. However, the Federal Reserve and the Federal Deposit Insurance Corporation must now review the plans and issue rulings later this year on whether this year's wills fully serve their intended purpose.
Disclosure: The author owns shares of Bank of America.
Image Credit: Public Domain
View Comments and Join the Discussion!
Posted-In: Federal Deposit Insurance Corporation Lehman BrothersLegal Federal Reserve Best of Benzinga