Who'll Leave The E.U. First: Greece Or The U.K.?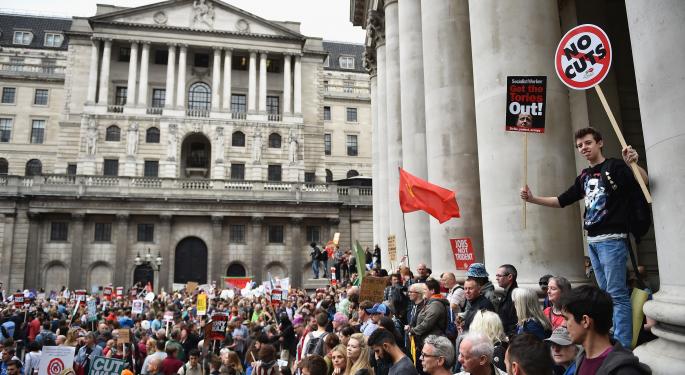 Bookmakers from Ladbrokes, a British betting and gambling company, now believe that an English departure from the EU is more likely than a Greek exit from the Eurozone. The surprising evaluation comes after Greeks voted 'No' on Sunday on a referendum to accept the Troika's austerity-based bailout package.
Ladsbroke says that the odds of a 'Grexit' are now 5/2, while the odds of a 'Brexit' are 3/1.
Ladsbroke spokesperson Alex Donohue told Reuters (via Business Insider) that betting markets expect Greece's membership in the currency union to persist at least until 2016. The outlet noted the resignation of finance minister Yanis Varoufakis is a major hurdle cleared on the path toward a last-minute deal with European creditors.
Related Link: Citi: Fear A Grexit, But Prepare For 'Grimbo'
Meanwhile, Donohue said, "there's been a marked increase of British political punters backing a Brexit this morning." Indeed, Conservative prime minister David Cameron saw his party win this year's parliamentary elections by a wide margin with the country's EU status as a center point of debate.
He has said he will hold a formal in-out referendum by 2017. The far-right U.K. Independence Party, or UKIP, stepped into international spotlight this past year for its hardline anti-EU platform.
But odds aside, the question of Greece's membership in the Eurozone is a much more pressing one -- at least over the short term -- than that of the U.K.'s participation in the EU.
Posted-In: Greece The United KingdomNews Eurozone Rumors Global Economics Markets Best of Benzinga
View Comments and Join the Discussion!