Benzinga's Weekend M&A Chatter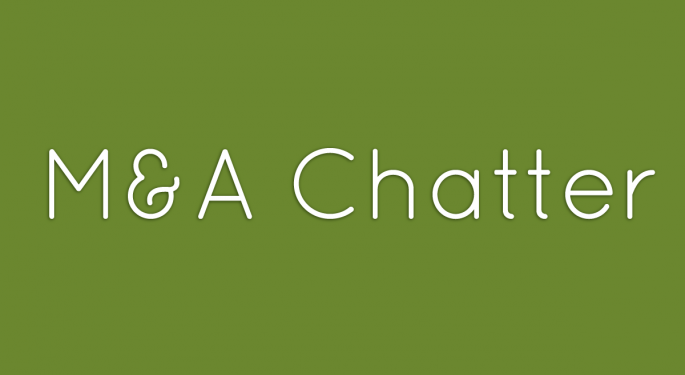 The following are the M&A deals, rumors and chatter circulating on Wall Street for Thursday July 2 through Sunday July 5, 2015:
Aetna to Acquire Humana for $37B in Cash and Stock
The Deal:
Aetna (NYSE: AET) and Humana Inc. (NYSE: HUM) announced Friday, that Aetna will acquire all outstanding shares of Humana for $37 billion or approximately $230 in cash and stock, based on the closing price of Aetna common shares on July 2, 2015. Humana stockholders will receive $125.00 in cash and 0.8375 Aetna common shares for each Humana share.
Closing is expected to take place in H2 of 2016.
Humana shares fell 3% Thursday, closing at $187.50.
K+S Board Rejects Potash Offer
The Rejection:
K+S Aktiengesellschaft rejected Potash Corporation's (NYSE: POT) unsolicited takeover proposal of €41 per share in cash on Thursday. K+S said the offer does not reflect the fundamental value and is not in the best interest of the company. K+S said the proposal disregarded the value of its "Legacy" Canadian mining project.
Potash responded on Friday, confirming that their proposal "is not predicated on closing mines, curtailing production, selling the salt business or cutting jobs." Potash said many of this issues raised by K+S could be addressed in a meeting between the companies.
Potash shares fell $0.18 Thursday, closing at $30.99.
Axalta Coating Systems Acquires Metalak Benelux BV
The Deal:
Axalta Coating Systems (NYSE: AXTA) announced Friday, that on On 1 July, 2015, it completed the acquisition of Metalak Benelux B.V. Terms were not disclosed.
Axalta shares fell $0.14 Thursday, closing at $32.50.
View Comments and Join the Discussion!