Will The Fed Heed IMF Policy Advice?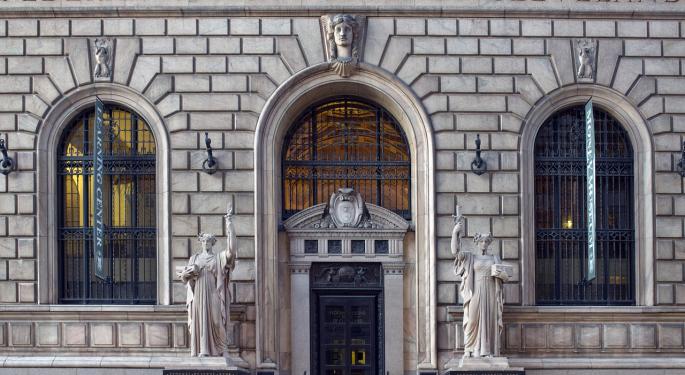 International Monetary Fund Managing Director Christine Lagarde has cautioned that the U.S. Federal Reserve's communication strategy is a risky one, telling the bank she thinks it should hold off on an interest rate hike. In Lagarde's view, markets are not prepared for the ramifications of a rate increase in the U.S., something many policymakers in the U.S. have echoed.
Ditch The Dots
Following Lagarde's advice to slow down with rate increases, IMF researchers released a paper suggesting that the Fed's current dot plot of interest rate forecast is both confusing and misleading. Instead, the IMF paper said, the bank should use a forecast that outlines the interest rates needed to achieve the central bank's future targets.
Related Link: Who Still Believes Greece Won't Default And Will "Work Out A Deal?"
Transparency
As the dot plot is published anonymously, many believe it removes some of the transparency from the bank's forecast. The IMF suggested that a forecast of the majority opinion would provide better guidance for markets and make the bank's future policy decisions more digestible to markets.
Not All Dots Are Equal
With the current system, the majority opinion is hard to decipher. Moreover, investors are left guessing whose dot is whose; as Fed Chair Janet Yellen's dot obviously holds more weight than many of the others.
Instead, the IMF believes that the bank should issue just one, majority forecast in order to provide markets with a single, accurate snapshot of where the bank is heading.
Image Credit: Public Domain
View Comments and Join the Discussion!
Posted-In: Christine Lagarde International Monetary Fund Janet YellenPolitics Top Stories Federal Reserve Best of Benzinga