Exclusive: This Startup Lets Investors Share And Replicate Investing Ideas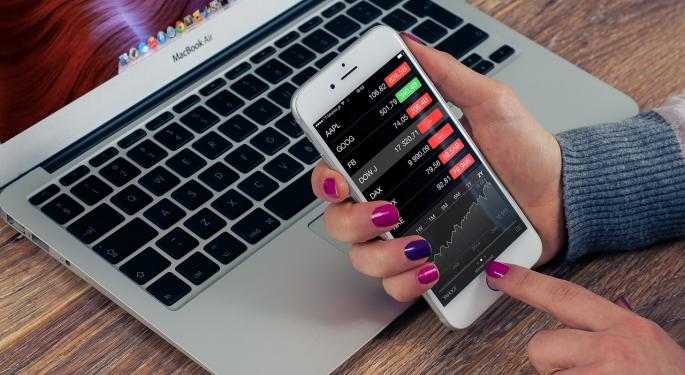 Saleem S. Khatri, CEO of collaborative investing network, Instavest, spoke with Benzinga about the company he co-founded.
This Y Combinator-backed startup lets seasoned investors make an investment and post the reasons why.
Less-experienced buyers can then replicate those investments with their own money and gift a percentage of their profits to the original seasoned investor, if they so choose.
Related Link: Tradier API Powers the Instavest Community to Make Smarter Investments
Benzinga: How does Instavest work?
Saleem Khatri: People make an investment much in the same way they do on Fidelity or E*TRADE.
In addition, they share why they made (the investment) in the form of a two to three paragraph post – call it a micro blog.
Other investors interested in looking for research that's off the beaten path or who want to replicate a potentially lucrative investment (can join in).
BZ: Could you walk through an Instavest example to show how the platform works?
SK: Sure. Let's say an investor wants to buy Tesla, because he believes the stock's going to go up. He buys Tesla on the Instavest platform.
Then, he writes a paragraph or two about why he likes it.
He might say it's an innovative investment, has a fantastic manager and that he believes the cost of (producing) batteries will come down leading to an increase in the price of the stock.
As soon as he hits submit, members of the investment team approve that idea. The investment is made, and that idea is carefully reviewed to make sure there's nothing malicious.
It is posted to our network, much like on Twitter or Facebook.
BZ: What happens after the original investment posts on the Instavest network?
SK: Somebody else could come along, see that (an investor) made an investment in Tesla and with one click read the reasons why.
Then, with a second click, they can actually buy the stock on their own account.
This is not paper trading. This is not virtual money. This is real money.
BZ: What about when the original investor sells?
SK: To complete the example, when the original investor sells, people who copied his investment will be notified that he is selling Tesla and they should consider selling too.
That gives people a little bit of comfort knowing when to get out of a stock, because that seems to be a big problem.
BZ: How does the gifting part work?
SK: When an investor's followers sell, the followers are presented a donation page where they can gift the original investor a portion of their profits.
Under the Fidelity scenario, the original investor was just going to invest in a stock, and they might have made 10 percent.
Here, they make 10 percent on their own money, plus they're getting chips or donations from other people because those people made money as well.
BZ: Is the gifting optional?
SK: It's completely voluntary. The Securities and Exchange Commission told us you couldn't charge somebody unless they're worth at least $2 million.
While there are many people with more than $2 million, in order to make this a really big business and comply with SEC regulations, we turned this into a voluntary donation model.
On average, people seem to be giving about 10 to 12 percent of their profits to incentivize people to continue to post.
They have the option to give zero. This is important to mention.
BZ: Does the original investor actually have to invest?
SK: Yes. In order for a recommendation (from an investor) to be shared that investor has to put their own money where their mouth is.
This is completely different in terms of where we are today in the finance world. Some people give you advice, but you don't know if they're putting their own money into it.
When they put their own money into it, it demonstrates conviction. That's number one. Put your money where your mouth is.
BZ: Who utilizes the Instavest platform?
SK: We have many Millennials, people who are 18 to 35. Actually, I would say a significant portion of our user base is Millennials and women.
The reason why is because (Instavest) has this social aspect to it and it's easier for people to use.
We've cut out all the unnecessary stuff and trimmed it down to what people need to see.
BZ: What's the minimum investment?
SK: The minimum is $1,000.
We want people to be able to take meaningful positions in a handful of stocks. I realize that some other websites have no minimum, but there's no use in opening up an account with $20.
BZ: What about interaction among members on the platform?
SK: We don't have that right now, but we're actually, as we speak, in the process of building that out.
One request that we've had is that if somebody sells their position, a one or two line explanation about why they sold their position, would be helpful.
Related Link: This Startup Wants To Help Every Site Launch A Trading Platform
BZ: Is there anything else about the Instavest platform investors should know?
SK: One thing, I think, is (the ability to) access obscure investments.
Many people tend to gravitate toward Apple, Google and Facebook, which are all wonderful companies, but there are many companies out there that are in inefficient parts of the market, where people can make money if they do their research.
Instavest makes that really easy for them. We're really trying to turn investing on its head. We really want to make that happen.
At the time of this writing, Jim Probasco had no position in any mentioned securities.
Image Credit: Public Domain
Posted-In: Apple E*TRADETop Stories Success Stories Startups Exclusives Trading Ideas Interview Best of Benzinga
View Comments and Join the Discussion!