NABE Economists Downgrade 2015 Growth Outlook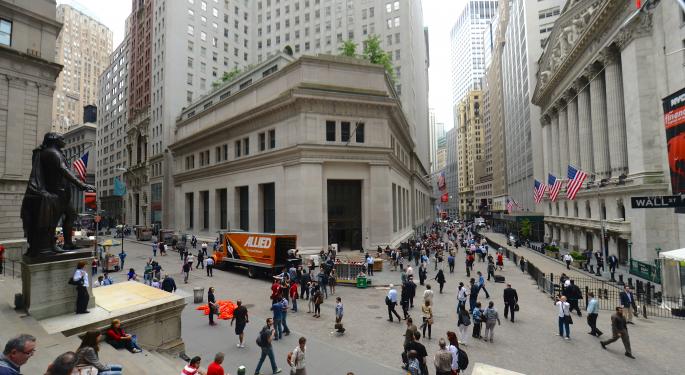 The National Association for Business Economics released its June Outlook Survey on Monday. The entire findings can be seen here.
Here are some of the key findings:
Full Year 2015 GDP Growth Slashed
The forecast for the annualized growth rate for 2015 was slashed to 2.4 percent growth from the 3.1 percent figure, which was projected in March. The median forecast for real GDP growth from the fourth quarter of 2014 to the fourth quarter of 2015 was "sharply" lowered to 2.3 percent from the 3.0 percent estimate in March.
Q2 GDP Estimates Lowered, Q3 Growth Reaffirmed
The median forecast for real GDP growth for the second quarter of 2015 fell to 2.5 percent at a seasonally adjusted annual rate, down from 3.0 percent in March. The panel is expecting quarterly growth to rebound to 3.2 percent in the third quarter, a view that remains in-line with the March forecast.
Related Link: 3 Experts Follow Up On May Jobs Report
Labor Market Commentary
The survey results showed a "slowing – but still robust" pace of improvement in the labor market. The median forecast for nonfarm payroll growth in 2015 was lowered to 217.000 from 251,000 in March. At the same time, the median forecast for 2016 also fell to 207,000 from 216,000.
Expectations for unemployment remained unchanged from March. The unemployment rate is expected to decline to 5.2 percent on average during the fourth quarter of 2015 and to 4.9 percent on average during the fourth quarter of 2016.
Federal Reserve Rate Expectations
Thirty-nine percent of survey participants noted that the unemployment rate would need to fall below a rate" consistent with full employment" for the Fed to raise rates in 2015. However, "significant" shares of the panel cited economic growth (22 percent) and a gradual rise in inflation (22 percent) as potential precipitating factors.
The median forecast for the year-end 2015 federal funds rate dipped 25 basis points from the March survey forecast to 0.5 percent. The panel's forecast for the fed funds rate at the end of 2016 is 1.625 percent, down from the 2.0 percent suggested in March.
Posted-In: 2015 GDP 2016 GDP GDP NABE National Association for Business EconomicsNews Econ #s Top Stories Best of Benzinga
View Comments and Join the Discussion!