South China Sea Dispute Spurs On Military Deals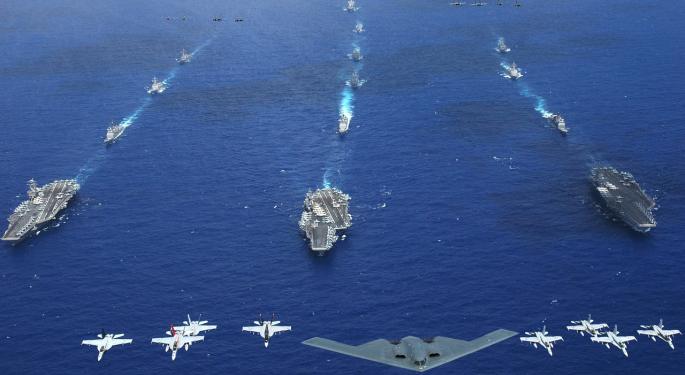 The dispute between China and Southeast Asian countries over the South China Sea has prompted increased military action as the tension over who owns that area rises.
China has asserted its claim to the sea, building artificial islands despite pushback from other nations that say the territory is rightfully theirs. Now, many Southeast Asian nations have begun to beef up their military in an effort to raise security and fend off China's advances.
Uniting Forces
Malaysia and the Philippines have made agreements with the Japanese government to join forces in order to secure their claims to the Sea.
Tokyo has signed on to provide the Philippines Coast Guard with patrol ships, and the nation is considering fulfilling requests for surveillance aircraft as well.
Related Link: What's Social Media Sentiment Say About China, Bonds And The Euro?
Western Contractors Step In
Vietnam, which has also claimed a stake in the South China Sea, appears to be turning to the West in order to improve its military forces. The nation is reportedly working with both European and U.S. contractors to secure a deal to purchase several different types of aircraft.
According to Reuters, Vietnamese officials are working with the U.S.'s Lockheed Martin Corporation (NYSE: LMT) and Boeing Co (NYSE: BA), as well as several European firms like AIRBUS GROUP (OTC: EADSY)'s Eurofighter and Swedish Saab AB (OTC: SAABF) in order to replace its outdated Russian fighter jets.
The Asian nation is also looking to buy unarmed drones and surveillance aircraft as well.
A Good Opportunity
Vietnam's need for military aircraft presents an interesting opportunity for the West, as the nation has traditionally relied on Russia for military purchases.
By supplying Vietnam, the U.S. and Europe could reduce the nation's dependence on Russia, something that would be beneficial for Western foreign policy.
Image Credit: Public Domain
View Comments and Join the Discussion!
Posted-In: China Japan Malaysia Philippines Philippines Coast Guard ReutersPolitics Top Stories Best of Benzinga