World Bank Says Russian Macro Forecast Better Than Expected, Russian Stocks Higher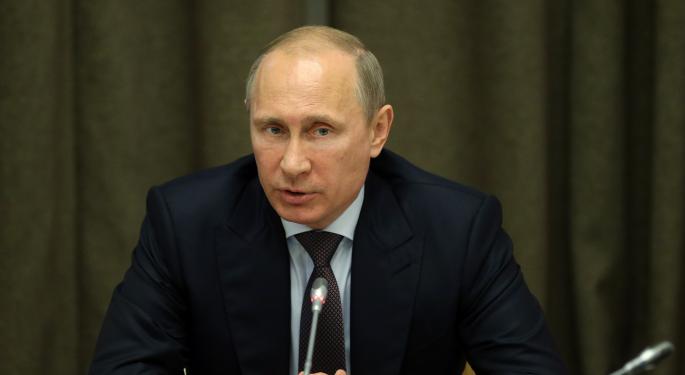 The World Bank came out on Tuesday and revised its Russian GDP forecast to a 2.7 percent decline through 2015, marking an improvement from the previous 3.8 percent contraction that was previously projected.
The Moscow Times cited the bank's lead economist for Russia who noted that the revision is attributed to a recovery in oil prices in recent months, a stronger ruble and slowing inflation. As such, the country's Central Bank is in a better position to ease monetary policy at a faster rate this year.
The World Bank sees Russia's GDP turning positive in 2016 by rising 0.7 percent and then rising 2.5 percent in 2017.
Investors reacted positively to the news report and bought shares of Russian-based companies as evidenced by the Market Vector Russia ETF Trust (NYSE: RSX) that was trading higher by nearly 4 percent. The Direxion Shares Exchange Traded Fund Trust (NYSE: RUSS) was lower by more than 10 percent as the fund offers a 3x inverse exposure to the Market Vectors Russia Index.
Shares of Yandex NV (NASDAQ: YNDX) were higher by nearly 5 percent. The company is a key Internet search provider in Russia and is often described as the Google of Russia. At the same time, Mobile TeleSystems OJSC (NYSE: MBT), a major telecommunications provider in Russia saw its shares higher by nearly 2 percent.
Shares of Qiwi PLC (NASDAQ: QIWI), a payment service provider in Russia were higher by more than 2.5 percent.
Shares of Gazprom OAO (OTC: OGZPY) were higher by slightly more than 2 percent. The company is one of the world's largest energy providers with a gas pipeline that extends to several European countries.
Posted-In: Gazprom Market Vectors Russia Index Russia Russia Central Bank Russia GDPNews Global Movers Best of Benzinga
View Comments and Join the Discussion!