Despite Warnings About A Grexit, Investors Remain Calm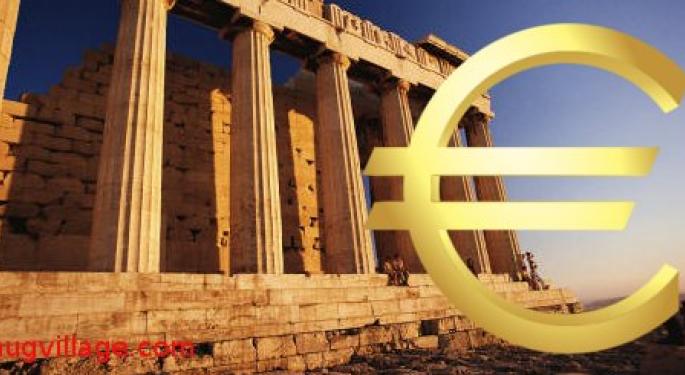 With Greece and its EU creditors still trying to work out the details of an agreement to release the nation's bailout funds just days before Athens is due to make loan repayments, policymakers in other parts of the world are beginning to worry that a Greek exit from the eurozone is becoming a real possibility.
However, warnings from the U.S. and Canada have done little to upset investors, who appear to firmly believe that the two sides will reach a deal in the 11th hour.
Concern Abroad
On Wednesday, US Treasury Chief Jacob Lew warned EU lawmakers that a Greek exit from the currency union would be devastating to global financial markets.
Lew appeared worried that European policy makers were complacent now that stability has returned to the region, and he cautioned that a crisis in Greece would almost certainly upset the balance in the region.
Related Link: Will Spain Become The Next Greece?
Canadian Finance Minister Joe Oliver reiterated Lew's remarks, saying that Greece may be small, but the ripple effect of a Greek crisis would be massive.
Lew and Oliver are heading to a Group of Seven meeting in Germany on Thursday, where Greek financial troubles will undoubtedly be a part of the discussion.
Investors Believe Resolution Is In Sight
Despite the tension surrounding Greek debt talks, investors have kept their calm. A Sentix survey of 1,000 investors showed that only 41 percent believe a Grexit is imminent.
That figure, though still high, marks a decline from the 49 percent who saw Greece leaving the euro in April. Although the debt talks have dragged on longer than anticipated, rhetoric from both sides suggest that there is a commitment to keeping Greece inside the eurozone, which has given investors confidence that the deal will be completed before Athens defaults.
Image Credit: Public Domain
Posted-In: EU euro Greece GrexitEurozone Politics Top Stories Markets Best of Benzinga
View Comments and Join the Discussion!