Will Spain Become The Next Greece?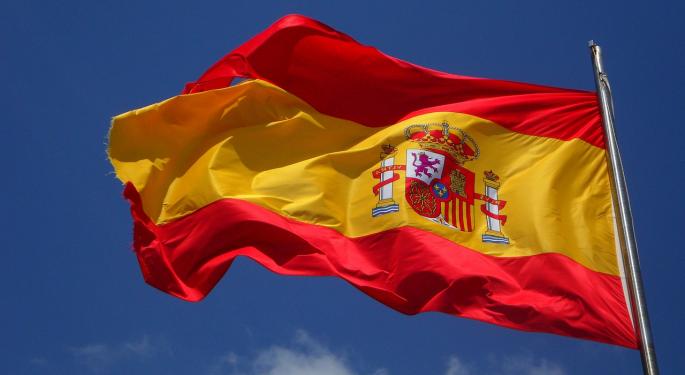 Over the weekend, Spanish citizens headed to the polls for regional elections, where they voiced their disappointment with the nation's direction under Prime Minister Mariano Rajoy and the Popular Party by casting a large volume of votes for small, upstart parties.
The elections sent a powerful message to Rajoy, who is hoping to be reelected later this year and could play a role in the ongoing debt negotiations with Greece.
Podemos And Ciudadanos
Two newly formed political parties, leftist Podemos and center-right Ciudadanos saw an influx of support in this week's elections as Spaniards called for new leadership. The nation is still bogged down by sky-high unemployment and many have become tired of spending cuts and corruption scandals.
Related Link: Jim Chanos: 'In Another 3-4 Years, China Is Going To Be Like Greece'
Austerity Unpopular
Podemos, the Spanish equivalent of Greece's Syriza, has seen a major increase in support as the party's push to end austerity gains traction. Many see this development as worrying, since Greece's Syriza leadership has been locked in bailout negotiations with the nation's creditors for months as Athens quickly runs out of cash.
Related Link: Investors tentatively Look To Europe
A Dangerous Precedent
Syriza-backed Greek Prime Minister Alexis Tsipras has reversed many of the EU's mandated spending cuts and is refusing to compromise on some of the conditions imposed by the nation's creditors in order to unlock more funding.
Many worry that the outcome of these talks could have a snowball effect throughout the rest of Europe as anti-austerity political parties like Podemos gain momentum.
Negotiations Set The Tone
If EU policymakers give in to Tsipras, some worry that Spain will follow a similar path by electing radical leaders and pushing for more lenient conditions. However, if the EU is unyielding, Greece may exit the eurozone, something that could devastate the region's markets.
Image Credit: Public Domain
View Comments and Join the Discussion!
Posted-In: Alexis Tsipras CiudadanosShort Sellers Eurozone Politics Top Stories Markets General Best of Benzinga