Save The Bees: They Could Save The Economy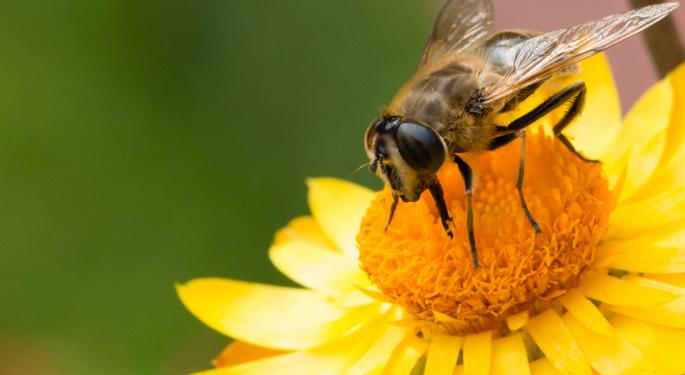 The Obama administration earlier this week announced plans to help save the declining population of honey bees in the United States after studies showed that bee colonies have been struggling under a number of environmental factors.
Last year, President Obama promised to look into the health of honey bee colonies in the U.S. as they are a vital part of agriculture through the pollination process and their decline could have catastrophic effects.
Bee Decline
The number of managed honey bee colonies in the U.S. has been falling since the late 1940's. This year, the U.S. has only 2.5 million managed beehives compared to 6 million 60 years ago. Even more disturbing has been the rapid deterioration over the past 10 years as U.S. beekeepers have seen colony losses of around 30 percent each winter, up from a historical 10 to 15 percent.
Related Link: What's Going On With Soybeans?
Where'd All The Bees Go?
Data shows that there are several factors affecting bee populations from a loss of natural foliage to a decline in genetic diversity, but one of the most heavily discussed has been bees' increasing exposure to certain types of pesticides. Environmentalists say pesticides containing neonics have had a detrimental effect on bee populations as 90 percent of the U.S.' corn crops have been treated with those chemicals.
Bees Matter
According to the White House, keeping bees alive is critical to the U.S. economy and more importantly, the global food supply. Honey bees are said to contribute $15 billion to the economy by pollinating fruits, nuts and vegetables. Ninety of North America's commercially grown crops rely on honey bees to survive. Almonds, for example, are exclusively pollinated by honey bees. Just the almonds coming from California require 1.4 million beehives, more than half of the entire nation's colonies.
Obama Saves The Bees
To help combat this issue, the president is pushing for a $50 million initiative that will increase research into honey bees and help restore some of the bees' lost habitats. The plan includes the creation of several task forces that will focus on things like public education, research and enhancing bee habitats.
Image credit: Markus Trienke, Flickr
Posted-In: bees honey bees President ObamaPolitics Economics General Best of Benzinga
View Comments and Join the Discussion!