Press Ganey Associates IPO Seeks To Capture Health Care Upside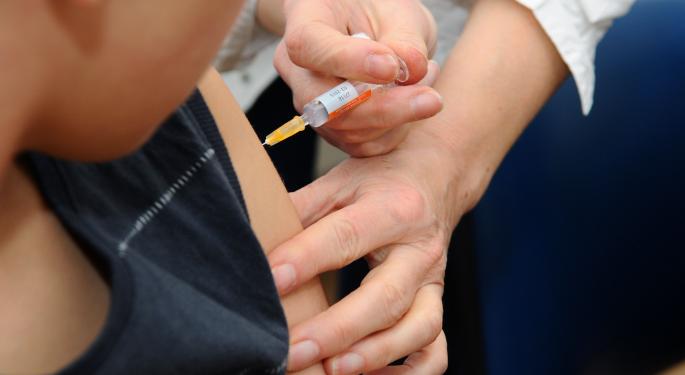 Press Ganey Associates (NYSE: PGA) is planning its IPO for Thursday, May 21. The company provides solutions performance in the health care industry. Press Ganey will list on the NYSE under the ticker PGA. It expects to raise $205 million by offering 8.9 million shares between $22 and $24 per share. If the shares price at the midpoint of the range, PGA will have a market cap of $1.2 billion.
A Recognized Pioneer And Leader In Its Field
Headquartered in South Bend, Indiana, Press Ganey was founded in 1985 to gauge patient satisfaction by administering surveys and providing advisory services for hospitals, medical practices, and other health care providers. The company operates in the rapidly growing health care industry which is under pressure to lower costs while improving care quality, safety, and the patient experience.
Currently the market for patient experience measurement and performance improvement solutions is nearly $3.7 billion and is projected to grow to $6.0 billion by 2018.
PGA serves more than 22,000 health care facilities in the U.S, including more than half of all U.S. hospitals with the average client relationship lasting about eight years. According to the company's prospectus, "During 2012 to 2014, PGA's average annual revenue retention rate was nearly 94 percent which indicates a strong client satisfaction with the company's solutions and long-term strategic relationships."
Health care spending continues to represent a large and growing portion of the U.S. GDP. As noted in PGA's prospectus, "National Health Expenditures data reported the U.S. spent $2.9 trillion on health care in 2013, which accounted for close to 18 percent of GDP." Spending on health care is anticipated to exceed the rest of the economy. Of the $2.9 trillion spent in 2013, $937 billion flowed to hospital care and $587 billion to physicians and clinical services. This continued upward spending pace advantageously positions PGA for future success.
The private equity firm Vestar Capital Partners Inc. purchased Press Ganey from American Securities LLC in 2008 as a leveraged buy-out. Vestar tried to sell PGA in 2011 but canceled the sale due to not meeting its valuation expectations. Vestar holds a 72 percent stake in Press Ganey and after the offering will retain about 60 percent of the company.
Financials
PGA's revenue grew by $9.5 million or 14.5 percent from $65.4 million on March 31, 2014 to $74.9 million on March 31 2015 due primarily to the expansion of its patient experience solutions sold to existing clients, new revenue gained from clients, and $3 million from businesses acquired in Q2 of 2014. Compared with revenue for 2013 and 2014, revenue for this time period grew seven percent from $113 million to $122 million.
Related Link: Baozun IPO Set Up To Compete For Chinese eCommerce
Net profit from March 31, 2014 to March 31, 2015 increased 81 percent from $3.30 million to $5.97. From 2013 to 2014 net profit grew by an astronomical 15,640 percent from $990,000 to $15.6 million. The company operated at a $7.39 million loss in 2012.
Operating cash from for Q1 2015 relative to Q1 2014 decreased from $12.5 million to $11.4 million. Investing activities during the same time period widened from ($1.69) million to ($2.73) million attributed the purchases of property and equipment, including investments in capitalized computer software, facilities and infrastructure.
As of March 31, 2015 PGA has $910 million in total assets and $417 million in total debt.
One of PGA's competitors, IMS Health Holdings (NYSE: IMS), trades at the upper end of its 52 week range. Like PGA, IMS' revenue increased over the past three years, however, the company's bottom line is not as consistent as PGA's.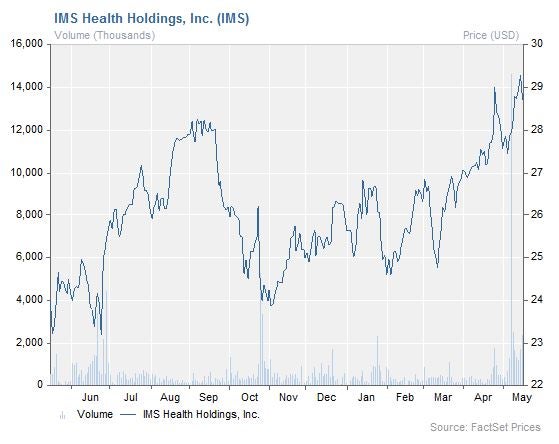 Conclusion And Pricing Info
As health care spending continues to grow in the coming decade with patients demanding better quality service and health care providers working to deliver on those promises, PGA's services will continue to be in demand. The company's revenue growth and balance sheet is strong and backed with increasing profits. Also, private equity backed IPOs have a recent tendency to price favorable and perform well in the secondary market.
Press Ganey estimates the net proceeds from the offering to be $187.7 million and intends to use the capital in the following manner according to its S-1:
Repay $175 million of borrowings under its term loan facility.
Pay a one-time $8.5 million advisory fee to its sponsor Vestar Capital Partners.
Any additional proceeds will be used to acquire or invest in additional businesses, technologies, products or assets, although no specifics or agreements are currently planned.
Leading the IPO is Barclays, Goldman Sachs, William Blair and Wells Fargo. The company will list on the NYSE under the ticker PGA on Thursday, May 21. Expect pricing to take place Wednesday night.
Posted-In: Press Ganey AssociatesNews Previews IPOs Trading Ideas Best of Benzinga
View Comments and Join the Discussion!