The Business Of Fertility Finance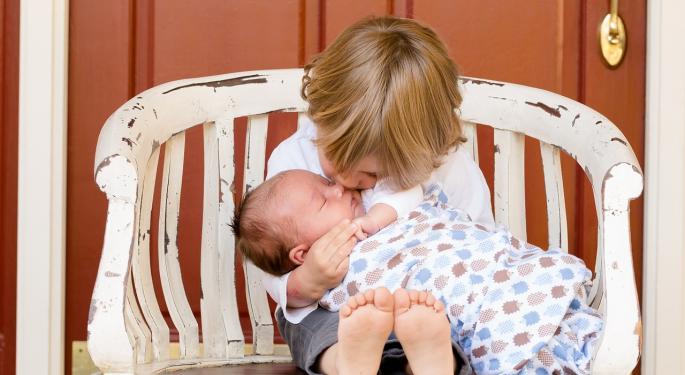 When the U.S. economy was still lagging, lenders were struggling to find new clients as Americans tightened their spending and hunkered down for the remainder of the Financial Crisis. However while the economy slowed, Americans' biological clocks continued ticking, leading to the emergence of a multi-billion dollar industry that continued to thrive long after the recession ended – fertility finance.
Fertility Lenders
Back in 2012 when money was tight, lenders specializing in fertility treatments began to emerge. Couples who were unable to secure traditional loans or use credit cards to pay for in vitro fertilization (IVF) treatments had the option of taking out a loan with a "fertility finance" company.
Related Link: OvaScience Shares Quiet After Co. Announces AUGMENT Fertility Treatment Continues To Show Improvement
Companies like NBT Bancorp Inc. (NASDAQ: NBTB) offered hopeful couples the opportunity to take out a loan by partnering with doctors at fertility clinics who could recommend the loan service.
Still A Thriving Industry
Fast forward to 2015 when economic improvement has been steady and oil prices have given most households a bit of extra spending cash, and the industry is still booming.
IVF treatments remain expensive at upwards of $15,000 per attempt and the number of couples requiring treatment has been steadily rising.
More Candidates For IVF
Women have started to put off their plans for a baby until their late 30s or early 40s, upping the risk that they won't be able to conceive and making IVF an increasingly necessary option.
However, with the chances of conception through IVF just 30 percent on any given attempt, many couples require several rounds of treatment. For that reason, companies like IntergaMed Fertility offer a wide range of loan options for couples who need to pay for IVF.
Related Link: HRC Fertility In Orange County Announces Outstanding IVF Success Rates
Making Fertility Treatment Accessible
Most insurance companies don't allow for fertility costs, making IVF an out-of-pocket expense. Fertility finance companies are looking to make fertility treatments available for couples of any income and mitigate some of the risk that the treatments won't work at all.
Some companies even give couples a "money-back guarantee" in case the treatment is unsuccessful.
Image Credit: Public Domain
View Comments and Join the Discussion!
Posted-In: Fertility Finance in vitro fertilization IntergaMed FertilityHealth Care Top Stories General Best of Benzinga