Every BlackBerry M&A Rumor That Turned Out To Be False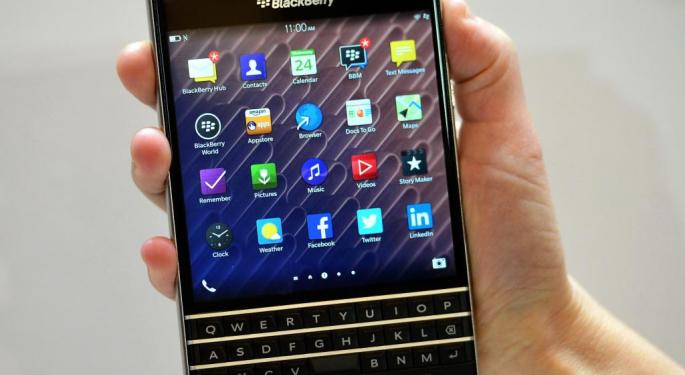 Another day, another BlackBerry Ltd (NASDAQ: BBRY) buyout rumor.
This time it was Apple Inc. (NASDAQ: AAPL) that was the rumored buyer (again), and it turns out that the source of the rumor, an article published by The Inquirer, was a recap of a previous rumor that drove BlackBerry shares up nearly 6 percent earlier this week.
The BlackBerry rumors have gotten so out of control lately that many onlookers, including Jacob Wolinsky, are wondering:

While a comprehensive list of every BlackBerry rumor would be nearly impossible to put together, here's a group of some of the major BlackBerry rumors in the past several years.
1. Apple Buyout: 5/11/2015
This rumor is the freshest of all, and the debate over whether or not this latest Apple/BlackBerry gossip has merit rages on.
2.

Huawei

buyout: 4/1/2015
Blackberry shares reacted to an article (in Chinese) published on JuJiao.com that suggested that the Chinese company Huawei might be interested in acquiring BlackBerry.
3. Samsung Buyout: 1/14/2015
BlackBerry shares surged 30 percent in January, as the market seemed to take the rumors that Samsung Electronics Co . Ltd (OTC: SSNLF) was interested in acquiring BlackBerry for up to $7.5 billion particularly seriously.
4. Qualcomm Consortium Buyout: 11/1/2013
A group that included QUALCOMM, Inc. (NASDAQ: QCOM), Cerberus Capital Management, and BlackBerry co-founders Mike Lazaridis and Doug Fregin made a joint bid for BlackBerry in 2013, but the deal ended up falling apart.
5. Facebook Buyout: 10/29/2013
Back in 2013, there was a rumor around Wall Street that Facebook Inc (NASDAQ: FB) might acquire BlackBerry to enter into the hardware business.
6. Lenovo Buyout: 10/17/2013
Chinese PC company Lenovo Group Limited (OTC: LNVGY) was reportedly weighing a BlackBerry takeover, but the company never pulled the trigger.
7. Google/Samsung/Intel/LG/Cisco Buyout: 10/4/2013
Some rumors come straight from BlackBerry itself, including the rumors of a takeout by Google Inc (NASDAQ: GOOG) (NASDAQ: GOOGL), Intel Corp (NASDAQ: INTC), LG Display Co Ltd (NYSE: LG), Cisco Systems Inc (NASDAQ: CSCO), or Samsung after BlackBerry reportedly talked to all of these companies about a buyout back in 2013.
8. Fairfax Financial Buyout: 9/23/2013
BlackBerry actually agreed to a $4.7 billion buyout deal with Fairfax Financial Holdings Limited (OTC: FRFHF) to take the company private, but the deal ended up falling through.
9. IBM Buyout: 9/4/2012
Way back in 2012, International Business Machines Corp (NYSE: IBM) was interested in a potential acquisition of BlackBerry for its BlackBerry Messenger service and its worldwide server network, but a deal never materialized.
10. Oracle Buyout: 4/17/2012
Once upon a time, even Oracle Corporation (NYSE: ORCL) was interested in taking over BlackBerry and entering the smartphone business, but the asking price was reportedly too high at the time.
11. Microsoft And Nokia Buyout: 12/20/2011
Microsoft Corporation (NASDAQ: MSFT) and Nokia Corporation (NYSE: NOK) once reportedly considered a joint takeover of BlackBerry back in 2011.
12. Amazon Buyout: 12/20/2011
Prior to the launch of its own Fire Phone, Amazon.com, Inc. (NYSE: AMZN) reportedly went as far as hiring an investment bank to look into an offer to buy BlackBerry for a launch into the mobile phone business.
Disclosure: the author holds a short position in Amazon.
Posted-In: Blackberry BlackBerry rumorsNews Rumors Top Stories Tech Best of Benzinga
View Comments and Join the Discussion!