Benzinga's M&A Chatter for Tuesday May 12, 2015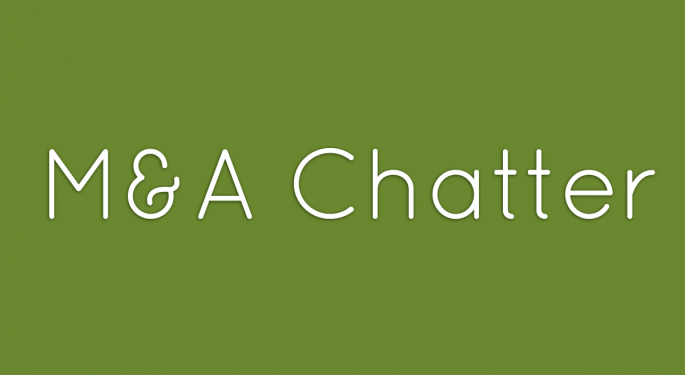 The following are the M&A deals, rumors and chatter circulating on Wall Street for Tuesday May 12, 2015:
Verizon to Acquire AOL for $50/Share, $4.4B
The Deal:
Verizon Communications Inc. (NYSE: VZ) announced Tuesday, the signing of an agreement to acquire AOL Inc. (NYSE: AOL) for $50 per share in cash, for a total value of approximately $4.4 billion. The transaction will take the form of a tender offer followed by a merger.
The deal is expected to close in the summer of 2015.
AOL shares closed Tuesday at $50.52, a gain of more than 18%.
Hearing Unconfirmed Market Chatter Juniper has Hired Advisors to Explore Potential Sale
The Rumor:
Shares of Juniper Networks, Inc. (NASDAQ: JNPR) shares rose Tuesday on unconfirmed market chatter that the company has hired advisors to explore a potential sale. Sources say Juniper has received multiple offers.
A spokesperson for Juniper Networks was not available for comment.
Juniper shares lost $0.04 Tuesday, closing at $27.05.
Exor Raises All-Cash Offer for PartnerRe to $137.50/Share
The Offer:
EXOR S.p.A. (OTC: EXOSF) announced Tuesday, that it has delivered an irrevocable and binding offer to the Board of Directors of PartnerRe Ltd. (NYSE: PRE) to acquire all of the outstanding common shares of PartnerRe for $137.50 per share in cash, or $6.8 billion. Exor had previously offered $130 per share.
The CEO of PartnerRe shareholder Franklin Mutual Advisers, said the Exor Offer was superior to the Axis offer, submitted in January of this year.
PartnerRe confirmed receipt of the offer and will review it.
PartnerRe shares gained $1.12 Tuesday, to close at $134.56.
Hearing Unconfirmed Market Chatter of Offer for TrueCar
The Offer:
Shares of TrueCar, Inc. (NASDAQ: TRUE) surged higher Tuesday, on unconfirmed market chatter of a potential offer for the operator of the Truecar.com automobile pricing platform. IAC/InterActiveCorp (NASDAQ: IACI) is a potential buyer, according to sources.
Spokespersons for TrueCar and IAC did not respond to requests for comment.
TrueCar shares gained 2.5% Tuesday, to close at $13.86.
View Comments and Join the Discussion!