Working From Home Could Become Even Easier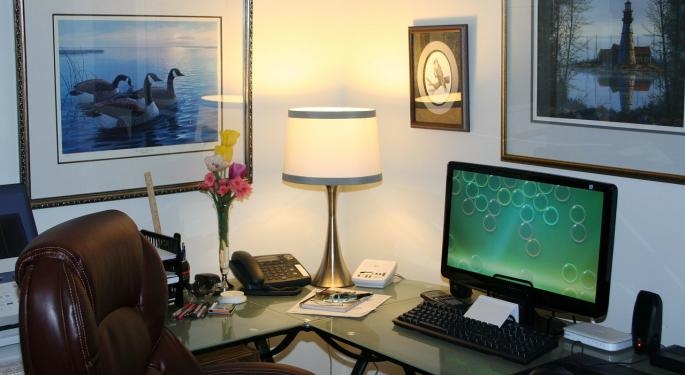 With the advent of cloud-based computing came growth in the number of employees who work from home on at least a part-time basis. Being able to access information remotely and collaborate on shared projects via the Internet has had a major appeal for both employees and their bosses.
However, the arrangement has also had its fair share of drawbacks, some of which are slowly being eliminated by new technology that brings the office to a worker's home.
A New Way To Work
Remote employees have been shown to be more productive, happier and less likely to quit. Not only that, but they cut down on the amount of office space a business requires, making them much cheaper than a traditional employee.
On the other hand, managers have less control over how their employees spend their time and interaction between co-workers has been shown to increase productivity and spur on innovation, an experience remote employees lack.
Related Link: Top 10 American Cities With The Longest Work Week
A New Kind Of Conference Call
With the workplace becoming increasingly scattered for growing businesses, tech companies are lining up to provide employees with the experience of being at work from the comfort of their homes. Intel Corporation (NASDAQ: INTC) is planning to roll out a suite of technology called RealSense, which will update laptop cameras to give them depth perception.
That on its own makes for a neat design feature, but a program called Personify is able to isolate a person from the video and eliminate the background, allowing their image to be displayed on top of a user's open programs.
Related Link: 5 Companies That Allow Employees To Work From Home
A Life-Like Experience
Virtual reality is another rising option for companies who want their video conferences to have a face-to-face feel.
Important details like body language are lost during teleconferences, but virtual reality would engage all participants, by essentially putting them in a room together.
Image Credit: Public Domain
Posted-In: Personify RealSense remote employment telecommuteTop Stories Be Your Own Boss Tech Best of Benzinga
View Comments and Join the Discussion!